What Is Reconditioned Pallet Racking?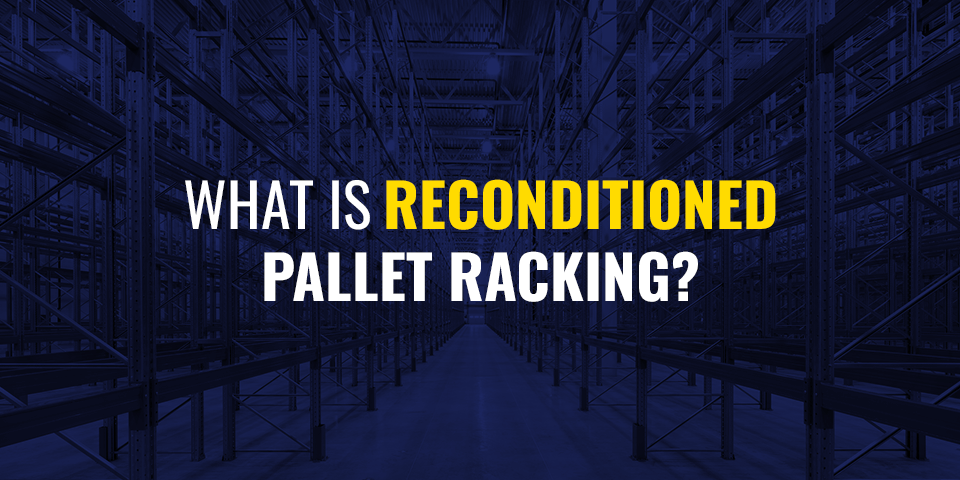 Every business is on the lookout for ways to save money without sacrificing quality, and buying refurbished products is one common way to do that. Businesses have taken advantage of refurbished, or reconditioned, products for years, including pallets and pallet racking.
View Our Pallet Racking Solutions
What Is Refurbished Pallet Racking?
Refurbished pallet racks are used pallet racks that either broke or became otherwise unusable before being restored. Unlike used pallet racking, which is often sold as is, reconditioned pallet racking is freshened up and tested to ensure it works well.
Reconditioned pallet racks go through a process where they are cleaned, given a fresh coat of paint, repaired if needed and tested to make sure they are stable and durable. They are also inspected before being sold, so you can be confident you're getting a product that is safe, strong and of high quality.
Not all reconditioning processes are the same, and to avoid buying a used pallet rack that is advertised as being refurbished, it's a good idea to ask the seller what their reconditioning process is.
The Reconditioning Process
Any company that provides reconditioning services will have its own process. No two processes will be exactly the same, but all of them will include the following steps: inspection, cleaning and preparation, and painting.

Inspection
In order to be designated as refurbished rather than used, pallet racking is inspected for any missing parts or damage such as cracks or bends. Repairs must be done by trusted, experienced professionals. And if any part of the racking system needs replacing, the replacement part should match or exceed the original specifications as set by the manufacturer.
Cleaning and Preparation
Once the racking has been repaired, the pallet rack gets an examination in which all stickers, labels or other identifying markers are removed from the surfaces. These are removed completely rather than painted over, adding to the goal of making the pallet rack look and work as if it were brand new.
The racking then gets a thorough cleaning, removing all signs of dirt or debris in preparation for the upcoming paint job. Any rust or residue is removed carefully so as not to destroy the material underneath. Chemical baths and wire brushes are the preferred methods for cleaning pallet racks because they are safer for metals⁠ — unlike sand-blasting, which can remove bits of metal and negatively affect the integrity of the structure.
Painting
Once the pallet rack has successfully undergone the inspection and preparation, it's ready to be painted. The paint applied should be designed for use in industrial settings. Powder, epoxy and heated enamels are three of the best options for industrial-use paints. Cold-applied spray and latex are also options, but they may not be as effective for industrial purposes.
Once the rack is fully painted, it's set aside to cool or set. Then it's sorted, packaged and shipped off to clients.
Benefits of Buying Refurbished Pallet Racks

Choosing the right pallet racking for your warehouse isn't a decision to be made lightly — especially since the racks will be storing products that need to remain safe and sterile. Reconditioned pallet racks are a great long-term solution for your racking needs. There are several benefits to using refurbished or reconditioned pallet racking rather than used or brand new ones.
Here are five areas where it's beneficial to buy refurbished or reconditioned pallet racks.
1. Cost
Arguably the biggest selling point of reconditioned pallet racking is the affordability. For a fraction of the cost of a brand-new pallet rack, you can buy one that's been restored to brand-new status. The only difference between a new rack and a refurbished one should be that the refurbished rack didn't come straight from the manufacturer.
The refurbishing brings the cost of the racks down because it's not brand new, but if the pallet racking has gone through the proper reconditioning process, you shouldn't be able to tell the difference between a refurbished and new rack.
2. Maintenance
Even though they are reconditioned, refurbished pallet racking doesn't require intense maintenance. They're easy to handle, and trained technicians who are experienced with handling forklifts should have no trouble with refurbished racks. Because they're not brand new, there isn't the stress of making sure they stay good as new. Instead, you can reap the benefits of a reliable pallet rack straight away.
Refurbished pallet racks can become a great investment for little initial cost, and they can last for years — allowing you to continue your business seamlessly and increase your profits.
3. Safety
When buying used or refurbished products, you may worry the item isn't as safe as one straight from the manufacturer. The thing to remember about refurbished pallet racking is the fact that it has gone through the detailed reconditioning process. The first step of reconditioning is to inspect the rack and make sure it's in excellent working order, and if it's not, to repair it accordingly.
Safety is another reason why you should always double-check with the seller about their reconditioning process. This way, you can verify the pallet rack you've purchased won't be a safety hazard for your workers and your products.
4. Reliability
There's a reason refurbished pallet racks are reconditioned rather than thrown away altogether. Any damage was fixable and was fixed according to industry standards during the inspection part of the reconditioning process. With a refurbished pallet rack, you don't have to gamble. You know the rack is sturdy and durable since it has lasted this long and has been restored to continue being sturdy and durable for many more years to come.
5. Shipping Speed
Unlike new manufactured pallet racks, reconditioned racks tend to be on hand already, and thus, ship faster. This means you may recieve refurbished racks faster than you would brand-new ones since a reconditioned pallet rack doesn't need to be custom-made to your warehouse's specifications. Speedier shipping means you won't have to waste any time waiting for your pallet racks to arrive, which means you don't need to lose any revenue.
Contact T.P. Supply for Reconditioned Pallet Racking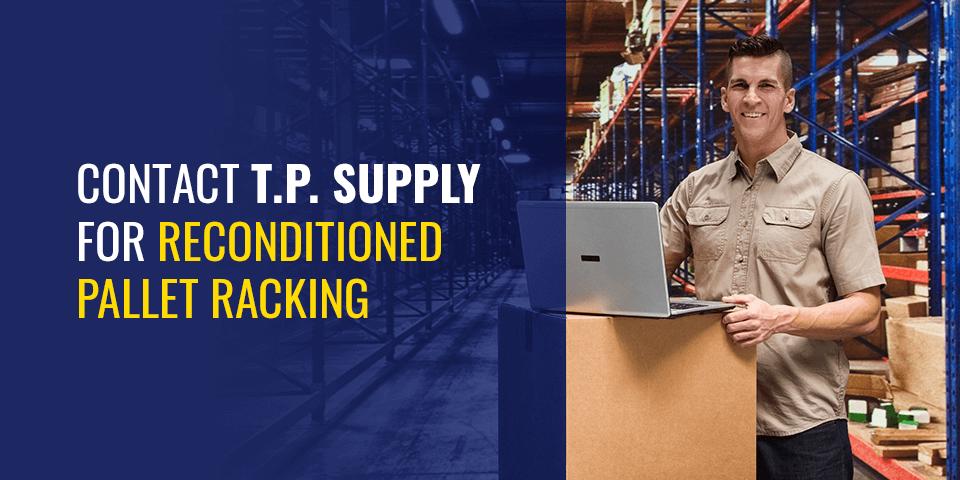 Whether you're looking to expand your warehouse or stock a brand new one, reconditioned pallet racking from T.P. Supply provides a reliable selection of refurbished pallet racking. Our T.P. rack brand consists of 100% reconditioned pallet racking options to fit whatever your needs require.
Since 1979, we've specialized in selling pallet racking. Today, we boast clients throughout North America who rely on our experience and expertise for their pallet racking needs. If you're ready to start buying reconditioned pallet racking for your warehouse, get a free quote by calling 205-301-5934 or by filling out our contact form today.