Used Pallet Racks
Pallet racks are a necessity for any business that often deals with heavy bundled or palleted materials. But nearly any industry can benefit from pallet racking to increase organization and efficiency.
Proper storage for back-of-house inventory reduces clutter and damaged goods, enhances worker safety and makes it easier to find and transport items. When you want a long-term storage solution, look no further than a pallet racking system.
The only potential drawback to purchasing warehouse pallet racking is the initial high cost of buying brand-new materials. If you're looking for high-quality storage without the hefty price tag, used pallet racks are the ideal solution. Used uprights and beams will work with any size of budget while providing the same level of organization, safety and versatility as new supplies. Buying used pallet handling equipment, like pallet jacks, in addition to used pallet racking accessories, like rack protectors and post protectors, can save you even more.
At T.P. Supply Co., we offer an array of new and used pallet racking options with styles and sizes available to meet your business's unique needs. We're upfront about the condition of all our materials, so you never need to worry about not getting the quality you pay for when you order from our extensive catalog.
If you don't see the size or style of used pallet racks you're looking for, give us a call at (877) 302-2337. There's a good chance we have it in stock. Even if it's not listed on our site, we'll do our best to find exactly what you need.
Contact Us for Used Pallet Racks Today
Benefits of Choosing Used vs. New Pallet Racks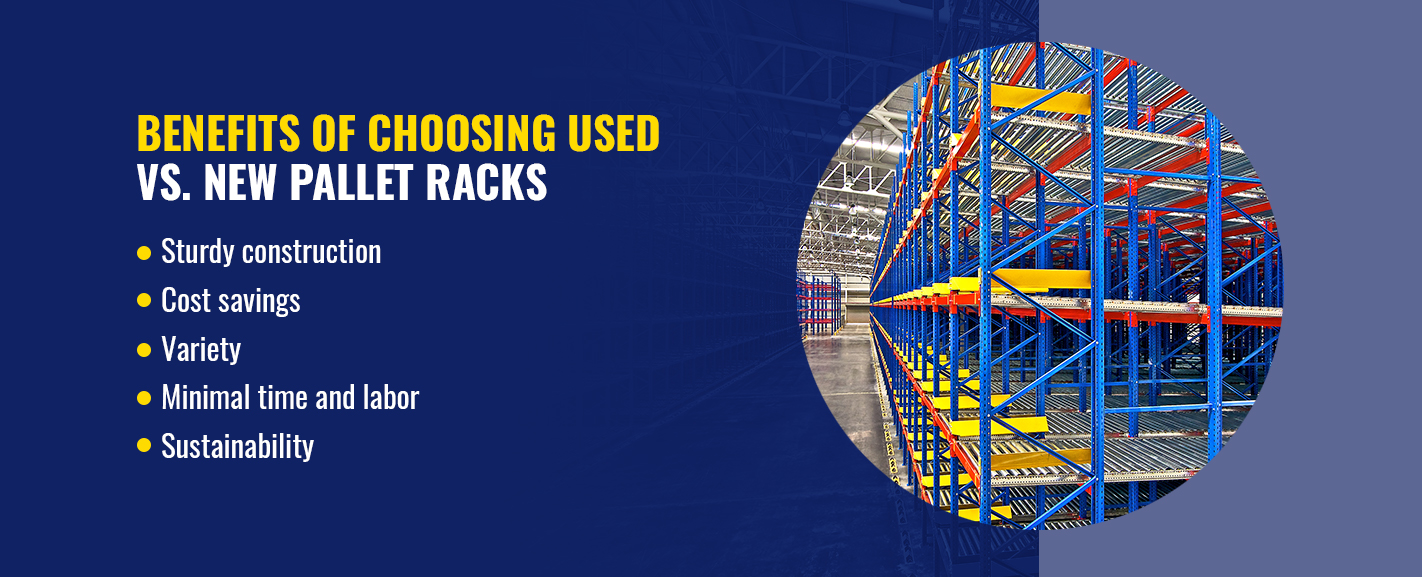 When your business needs warehouse storage products, you may find yourself weighing the pros and cons of new vs. used pallet racks. Buying used pallet racks for your storage system offers a wealth of advantages, including:
Sturdy construction: Used pallet racks are generally in excellent condition, coming from their original owners with only minor, cosmetic wear and tear. This metal shelving is tough and dependable enough to last through many uses. If the pallet racks are durable enough for resale, you know they are high quality and safe and will last for many years.
Cost savings: Though used pallet racks offer the same high quality of new pallet racks, they cost a lot less. Purchasing used pallet racks is an excellent way to get the most value for your money and trim your warehousing budget. You can put the saved money to use elsewhere in your operations or save it for a larger inventory purchase.
Variety: New warehouse pallet racking offers a variety of options, and so does used pallet racking. When you explore used models, you can find a selection that suits your specific warehousing needs, whether that's standard teardrop pallet racks, pushback racking, Hiline pallet racking, Speedrack pallet racking or other specialized brands and styles.
Minimal time and labor: If you purchase new warehouse pallet racking, you may end up designing a custom system from scratch. When your new system arrives at your warehouse, you'll likely need to put it together. Both design and assembly require time and energy you may not have to spare. Alternatively, when you invest in used pallet racking, it arrives at your facility preassembled, saving you time and effort and allowing you to optimize your pallet flow right away.
Sustainability: Many businesses increasingly strive to be mindful of their environmental impact. They want to do their part for the environment, and they also know eco-conscious consumers often choose eco-conscious businesses to support. Reusing pallet racks in your warehouse is an environmentally friendly and highly sustainable option. It reduces the waste and pollution associated with manufacturing new products, and it keeps pallet racks with a lot of good use left from ending up in landfills.
Used Pallet Rack Uprights
To build your pallet racking system, you need to begin with a stable structure that can withstand everyday wear and tear as well as potential forklift and trucking damages. We offer many styles of used upright frames that provide you with the durability and safety required for any industry standards.
Some of our available upright styles include:
Teardrop: The most common pallet rack style in the industry, teardrop uprights allow for easy assembly and quick adjustments with little tool use or labor required.
Double-slotted: This angled, double-slotted design's weighty frame provides maximum safety and longevity.
Keystone: While less common than some other types, the sturdy construction of keystone uprights have a sturdy construction ideal for businesses that work with heavy products.
Ridg-U-Rak: Vertical double-slotted design provides maximum capacity, safety and longevity.
We also offer universal teardrop pallet rack starter kits containing teardrop pallet racking uprights and extra wire mesh decks.
Call Now and Save: (877) 302-2337
Used Pallet Rack Beams
No pallet rack system is complete without beams that will provide you with just the right amount of shelving space. We offer used pallet rack beams in many heights and styles.
Our beams come from brands you know and trust, including Penco and Ridg-U-Rack. These high-quality pallet supports will withstand tons of weight so you don't have to worry about the safety and durability of your system.
When buying used pallet racking, many people struggle to pair uprights with the correct size and style of beams. If you need any help finding matching beams that will work for your system, give us a call.
Call Now and Save: (877) 302-2337
Choose T.P. Supply Co. for Used Pallet Rack Products
At T.P. Supply Co., we've specialized in selling pallet racking and other storage solutions since 1979. Today, we're a trusted new and used racking company with customers throughout the U.S., Mexico and Canada. Shop now to see why so many industries rely on us as their shelving provider.
When you're ready to order your used pallet rack uprights and beams, call us toll-free at (877) 302-2337 or complete our customized quote form to learn more about bulk pricing options.

SaveSaveSaveSaveSaveSave
SaveSave
SaveSaveSaveSave