Pallet Rack Identification Guide – Identify Your Current Storage Racking System
Warehouses, manufacturing facilities, retail establishments and food distribution centers rely on material handling storage rack systems to keep products, inventory, parts and containers off the ground and easily accessible. When paired with forklift operation, pallet racks also simplify organizational and retrieval processes, saving valuable time and resources.
Getting the most out of a pallet rack relies on understanding the different types of racking systems and how each one might benefit your operations. For example, some types are suited for specific load-bearing capacities, while others are designed to maximize small spaces. Whether you're choosing new pallet racks for your facility or need information or parts for your existing system, use this warehouse racking identification guide to learn more about the different kinds of pallet racks available.
What Are Pallet Racking Systems?
Pallet racking systems consist of several components that connect to create a heavy-duty storage and shelving system that meets your space, budget and weight requirements. The most common pallet racking types are: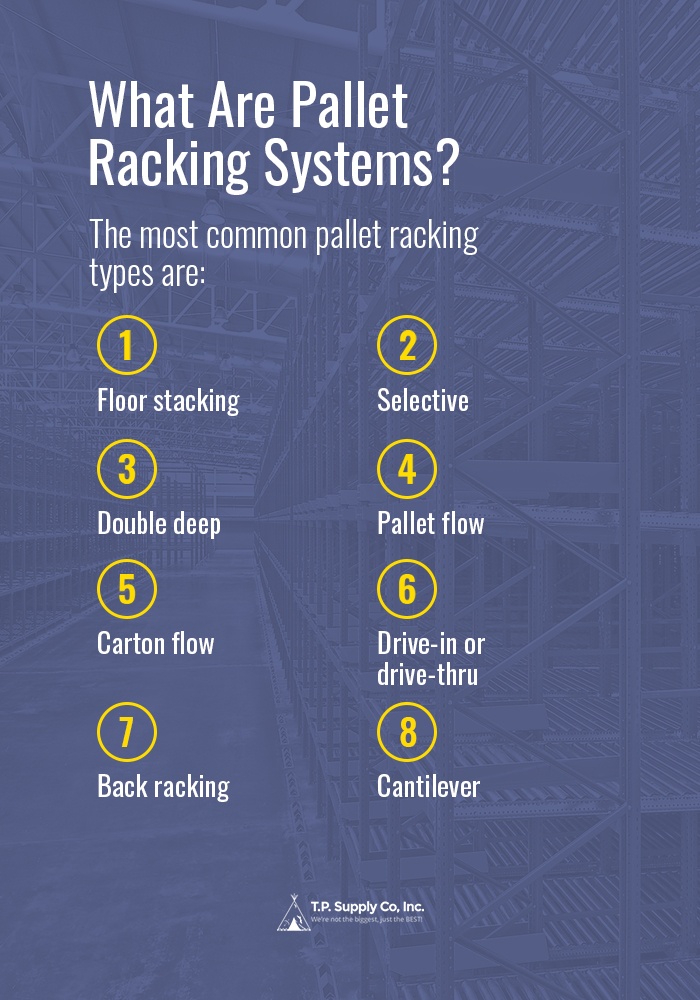 Floor stacking: Floor stacking is the least complex racking type, as it just involves placing pallet racks in single rows on an open floor. Though this method takes up a lot of floor space, it might be suitable for low-volume operations, like backend storage for small retail stores.
Selective: Selective racks look and function like a type of metal shelving compatible with forklift operation. You'll often see them in large warehouses, manufacturing facilities and food processing operations due to their metal makeup.
Double deep: Double deep racking is a method, rather than a type of pallet rack. It involves placing one row of selective racks directly in front of or behind another to maximize storage capacity.
Pallet flow: Pallet flow racks, also called gravity flow racks, have slightly pitched slopes. As you stack items on the rack, pallets in the front move toward the lower end of the slope for retrieval via the "first in, first out" process. By utilizing natural gravitational movement, a pallet flow system eliminates the need to drive inside. However, items at the back of the flow are not as accessible as they are with other systems.
Carton flow: Carton flow systems are very similar to standard pallet flow configurations because they also use gravity and propelling rollers to move pallets to the front of the line for easy retrieval. Carton flows are for lighter loads.
Drive-in or drive-thru: Drive-in and drive-thru racking systems are ideal for large volume or high-turnover items. These systems are designed to allow forklift operators to drive into the racking system via designated entry and exit points for retrieval. The design lets you store items several layers deep for optimal space. Because some pallets are inaccessible, this method is a good fit for facilities with a bulk inventory of the same product.
Back racking: Push-back racks, or back racking, operate similarly to drive-thru systems except pallets sit on carts and roll to the front of the line as items are retrieved from a single aisle. This allows for more convenient front-end loading.
Cantilever: The cantilever system consists of a sturdy base layer with strong arms that extend from one or both sides to support long items not typically contained in pallets, like rolled textiles, pipes, tires, tubing and timber.
Though most facilities will succeed with one of these pallet rack types, some may use multiple systems to meet various product needs or space requirements. For example, a large warehouse storing pallets of furniture parts and area rugs might utilize a double deep racking method for traditional pallets while storing textiles on a cantilever rack. A warehouse design specialist can help you choose the best systems for your specific product and space needs and create a layout that promotes fast, easy access and safe retrieval.
How Do You Identify Pallet Racking?
Some components vary between pallet racking designs, but most rely on the same essential parts, like uprights, beams and bracing. Pallet racking is sometimes referred to as a "bay," which is a system's single starter unit — usually one level with two beams. Different facilities may have unique ways to identify or label individual bays. To determine your current pallet racking system, inspect these parts and familiarize yourself with how they compare to those systems listed above.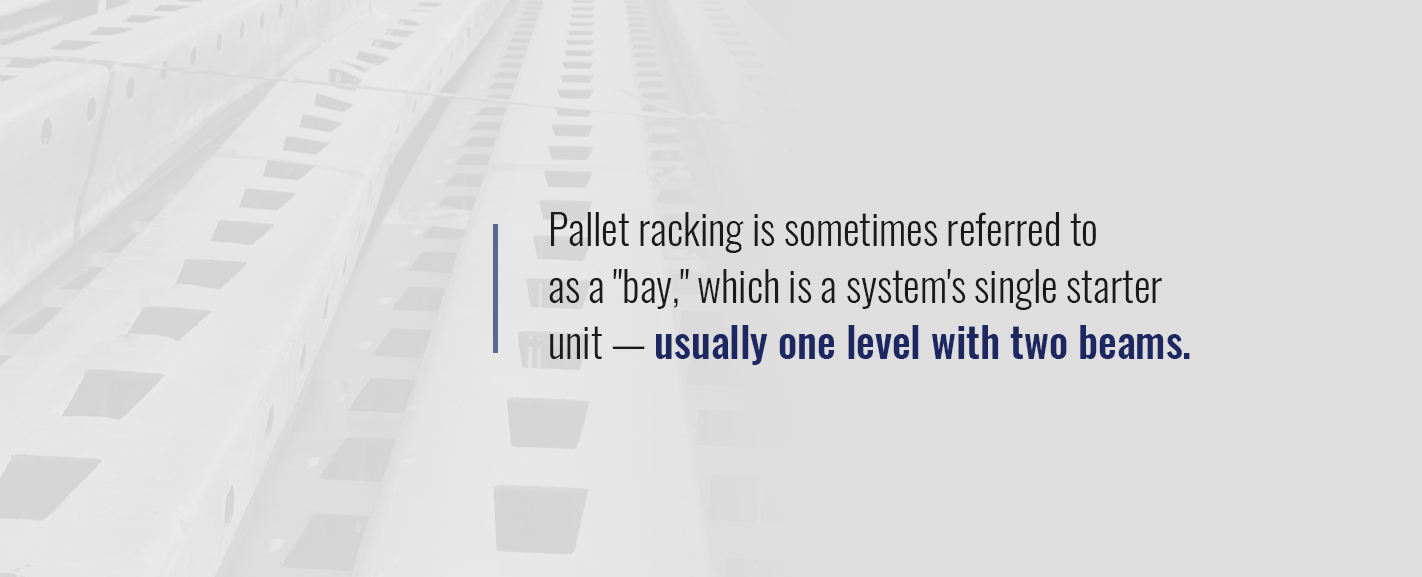 The different parts of pallet racking are:
Uprights: Uprights, or frames, are part of a pallet rack shelving unit that stands vertically. They have identifying keyholes on them to arrange and secure beams to create a complete unit.
Beams: Beams are the horizontal sections of a pallet rack that connect to the uprights to form shelving.
Row spacers: Row spacers go in between each row of racks in back-to-back configurations.
Base plates: Base plates attach the uprights to the floor and help them maintain load-bearing stability.
Beam connectors: Beam connectors are the fastening system you use to connect a beam to an upright.
Keyholes: Keyholes are small, uniform holes along an upright that allow you to add beams. Comparing a picture of the keyholes with pictures of pallet systems is one of the most efficient methods of pallet racking identification.
Bracing: Horizontal and diagonal braces attach to uprights and add more stability.
Post protectors: Post protectors, also called column and straddle protectors, keep your racks safe from forklift impact.
Crossbars: Crossbars go underneath a load to add more support.
Wire decking: Wire decking is a recommended surface area of mesh you install between the rack's beams to offer more storage space and weight support.
Wall ties: Wall ties are a method of anchoring a pallet racking system to the wall for heavier loads or to meet workplace safety regulations.
Safety netting: Apply a safety net — usually nylon or plastic — to the back of pallet racks to prevent dangerous or costly fallout on the other side.
What Are the Different Types of Racks?
Racking systems are made up of individual pallet rack types, which vary depending on their design and intended application. These are the most common pallet rack types, including their identifying markers and recommended applications:
1. Teardrop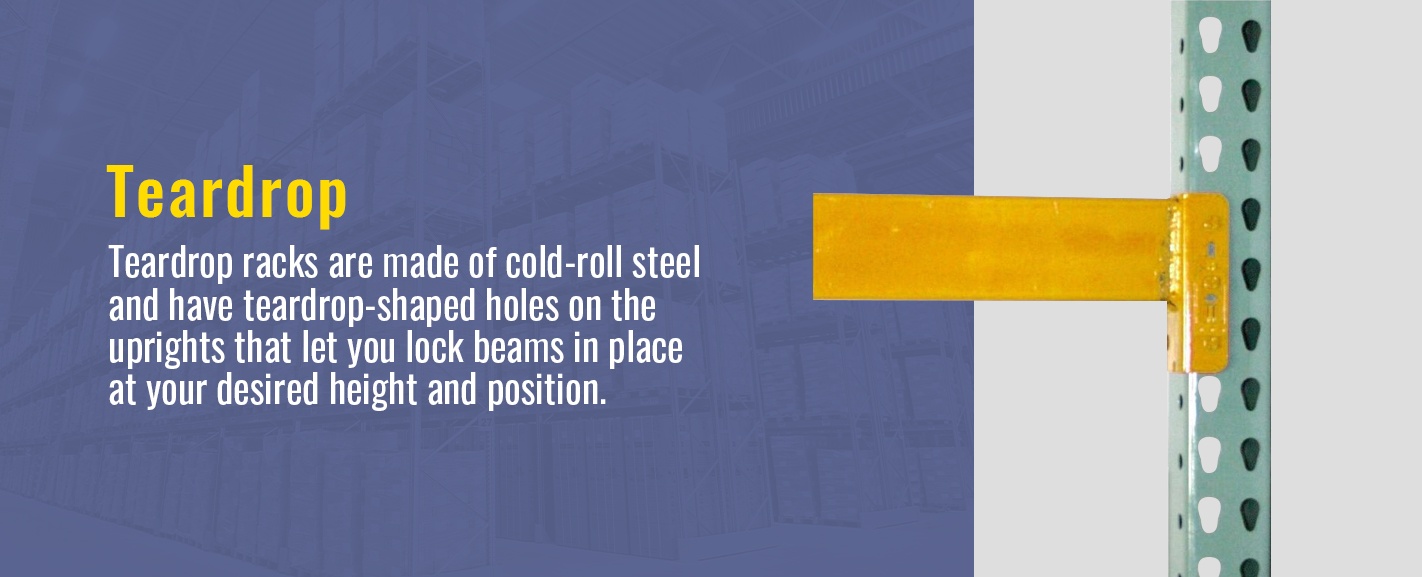 Teardrop racks are made of cold-roll steel and have teardrop-shaped holes on the uprights that let you lock beams in place at your desired height and position. Compared to other rack types, the unique teardrop design uses the natural weight from the load to hold the beam and upright in place with a beam pin, eliminating the need for additional connecting hardware. The friction this design creates establishes a strong base for pallets, free of hazardous swaying or buckling, that is simultaneously easy to assemble and disassemble. Safety clips make them even safer for employees and products.
There are two types of teardrop racks:
Old style universal: Old style universal teardrop racks are the most popular variation of the two. This design has teardrop holes, with a larger top hole — a rounded area where you insert the connecting pin — and a slightly tapered end at the bottom, which holds the pin above it in place. Old style teardrop beams are not compatible with new style beams.
New style: Compared to the traditional style, new style teardrop racks have a more rectangular hole, though they function the same. While you cannot place a new style beam onto a traditional beam, they will work with both style uprights. Identifying and matching teardrop beams is just a matter of comparing the teardrop hole's shape and size.
The teardrop hole's exact shape may differ between manufacturers, so always check compatibility with existing equipment before investing in beams and uprights. Teardrop pallet racking systems are a good choice for any size facility looking for a cost-efficient, reliable pallet rack that will grow with their operations. They are a versatile fit for warehouses, stores or manufacturers who work with several different product types and sizes because they are easily configurable.
View our teardrop racking systems
2. Double-Slotted
Like teardrop pallet racks, double-slotted uprights have holes for secure beam connection. Instead of rounded holes, the slots on these uprights are slightly angled, parallel rectangles that hold the pin and beam flange. Double-slotted racks are made out of iron, which lets them support large, cumbersome pallets better than other rack styles can. When double-slotted uprights and beams connect, it's sometimes called a structural rack. The connection process may require bolts and fasteners to anchor and stabilize the structural rack since it's made with such heavy materials.
The long-lasting iron makeup and additional connection expenses make double-slotted racks more time consuming to install and less cost-efficient than teardrop designs. But they are more capable of handling heavy loads. They are ideal for large warehouses with plenty of space that require extensive permanent or semi-permanent weight support. Some double-slotted racks double as load-bearing structures for warehouse buildings.
View Our Double Slotted Pallet Racks
3. T-Bolt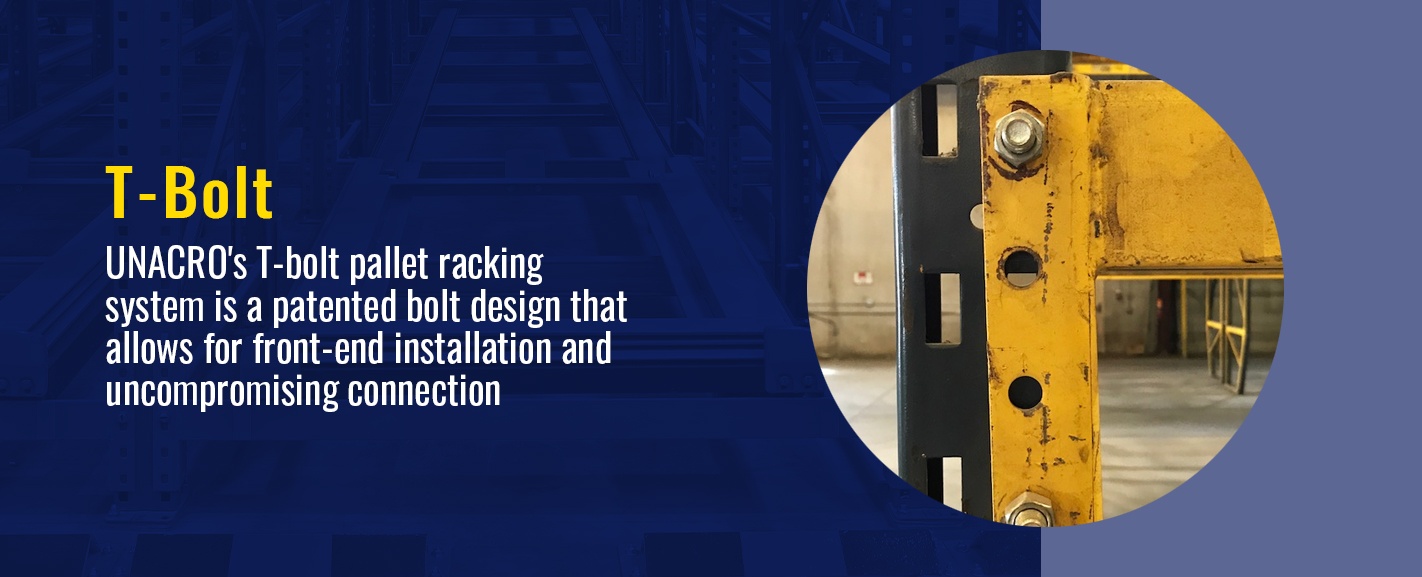 Compared to welded rack designs, bolted racks save you the cost of labor and welding supplies and offer customizable options that are challenging to achieve with welded bracing. This versatility also makes bolted racks easier to repair, if necessary.
UNACRO's T-bolt pallet racking system is a patented bolt design that allows for front-end installation and uncompromising connection. It uses a two-bolt system that holds T-beams to the uprights. You can tighten the curved-head bolts to accommodate different weight ratings. When the bolts are locked in place, you will see a horizontal indicating mark, meaning it's secure.
Because of the dual-bolt construction, you don't have to worry about the rack's beams suddenly coming apart, but you will have to factor in the time and resources — including tools and employees — needed to install and uninstall each bay. Regardless of which manufacturer you choose, you should perform routine safety inspections on bolted rack designs to ensure they remain in place and tighten them as needed.
4. Keystone or Republic
Keystone pallet racks are sometimes called Republic racks and resemble some teardrop designs. Each keystone slot is offset from the holes on the opposite side, with a locking safety pin to connect them, offering a secure, key-like lock once in place. They are adjustable in inch-by-inch increments, depending on which brand you're using. Each slot is put in a precise location to support as much weight as possible while maintaining structural integrity, though additional safety clips and bracing are recommended for heavy-duty use.
Keystone racks are typically more cost-efficient than other designs and don't take up excessive space. They are also easier to install than bolted or welded racks.
5. Structural Rack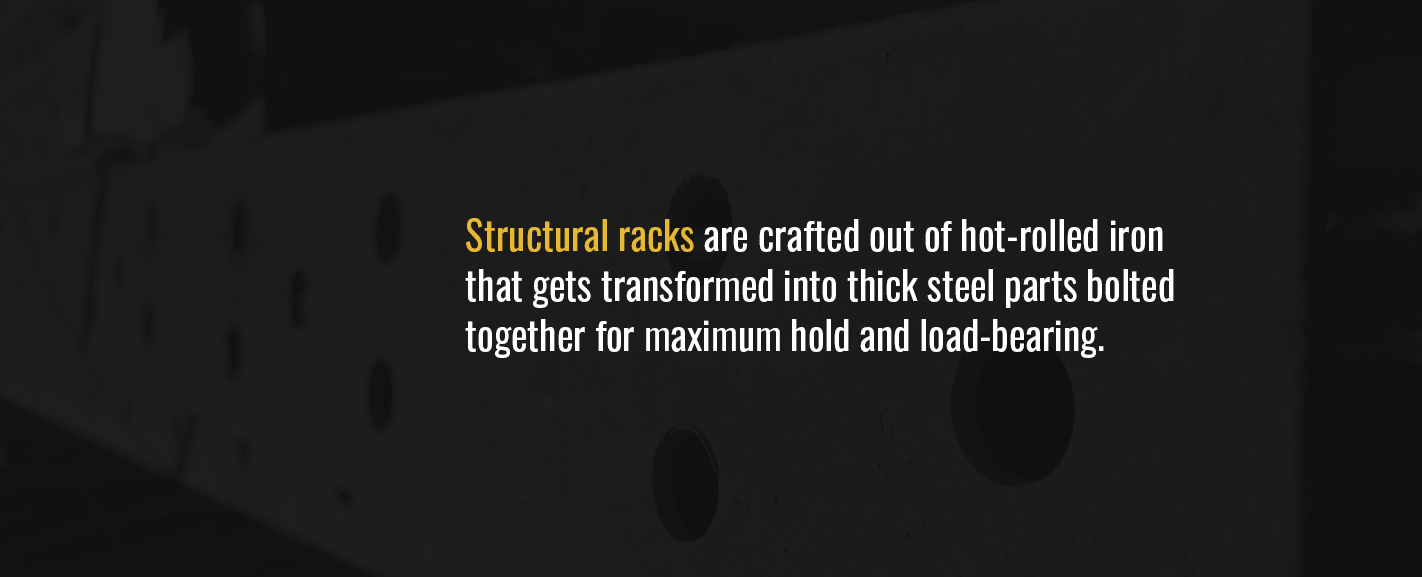 Structural racks are an alternative to roll-formed racking, a category that most slotted racks fall into because of their thin metal design. Structural racks are crafted out of hot-rolled iron that gets transformed into thick steel parts bolted together for maximum hold and load-bearing.
Use a structural rack when you need strong, bolted connections for heavy-duty loads that require plenty of space. These types of racks are also easy to clean, which is ideal for grocery and consumer goods and food and beverage manufacturing facilities. Their reinforced design makes them suitable for extreme temperatures and less prone to bending, warping or breakage.
They are also very heavy and less cost-efficient than roll-form racks, though their construction makes them a long-lasting investment. Structural racks are challenging to customize since many accessories and adjustments are only compatible with slotted racks.
6. Mobile Racks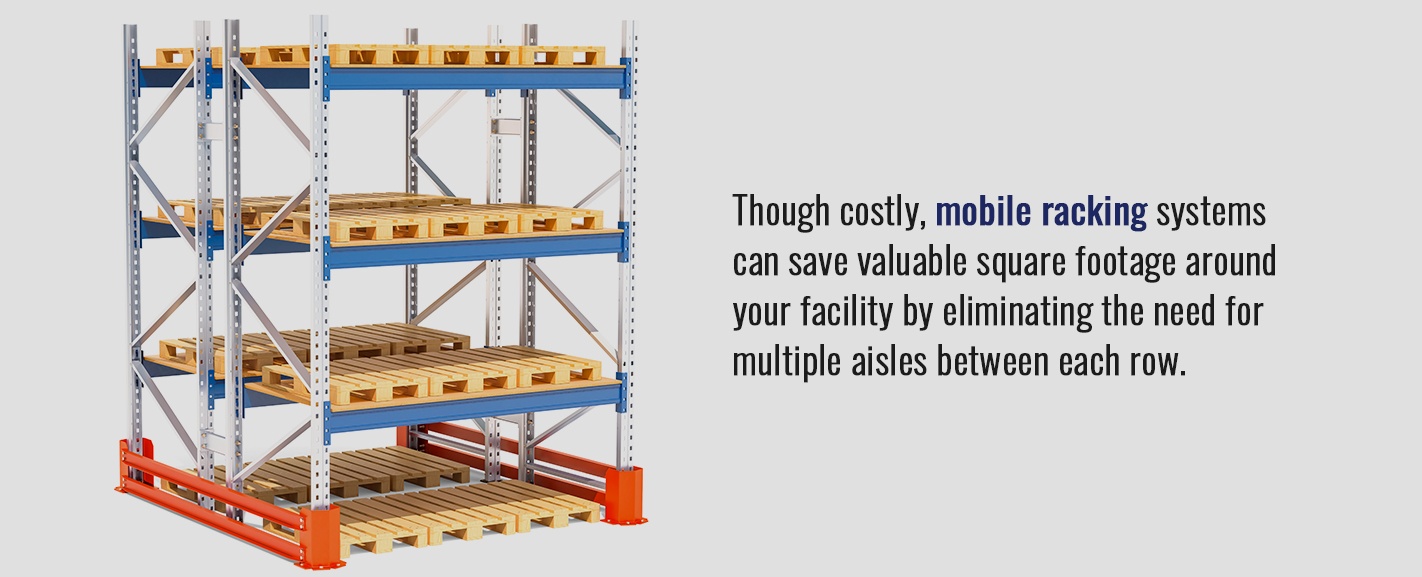 Mobile racks are a specialized type of existing selective and cantilever racks that operate via electronic track and motor to move bases supporting pallets. Depending on your chosen configuration, you can set up a mobile racking system to be compact until you need access to a specific bay when it will then expand and create an aisle.
Though costly, mobile racking systems can save valuable square footage around your facility by eliminating the need for multiple aisles between each row. You can add them to your existing setup without needing to alter the floor or make expansions. Mobile racks can save hours of valuable employee time by making it easier to find and retrieve the items they need.
Pallet Rack Brands
Each of the pallet racking brands has a unique way of designing and manufacturing their uprights and beams, including different slot shapes and sizes, heavier or lighter metal components and available accessories. While some parts from other brands may be compatible with one another, it's generally a better idea to stay consistent with the brand you use in your warehouse or manufacturing facility.
Note that not every brand manufacturers every type of pallet rack — if you plan to have multiple rack styles on-site, you will likely need to shop from more than one manufacturer. If you must mix components on individual racking systems from more than one brand, work with a warehouse engineer or consult with a representative from each brand to confirm compatibility before investing.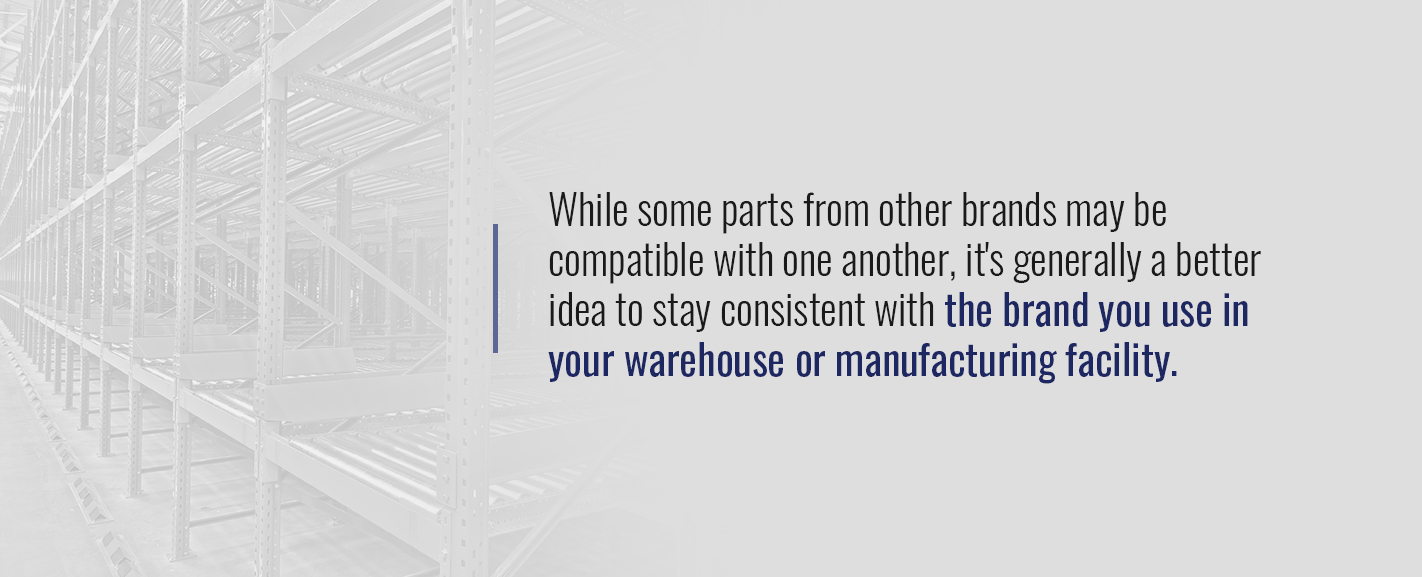 Some popular pallet rack brands and manufacturers in the industry include:
Interlake
TP Rack
Kingway
Speedrack
Lyon
Sturdi-Built
Ridg-U-Rak
UNARCO
Prest
Frick Gallagher
Husky Rack & Wire
Hannibal Industries
Elite Storage
Bulldog Rack Company
Nedcon
Rack US
Konstant
SpaceRak
Which Pallet Rack Is Right for You?
If you're trying to choose the best pallet rack for your facility, you have a few options — including new and used components. Used pallet racks from a trusted supplier like T.P. Supply Co are a cost-efficient option for new and small businesses or large-scale facilities working under a tight budget. They are inspected for quality and durability and available in several styles, sizes and configurations to meet your layout needs.
You should also consider your intended application for your pallet racks, as well as your available space, budget and existing equipment.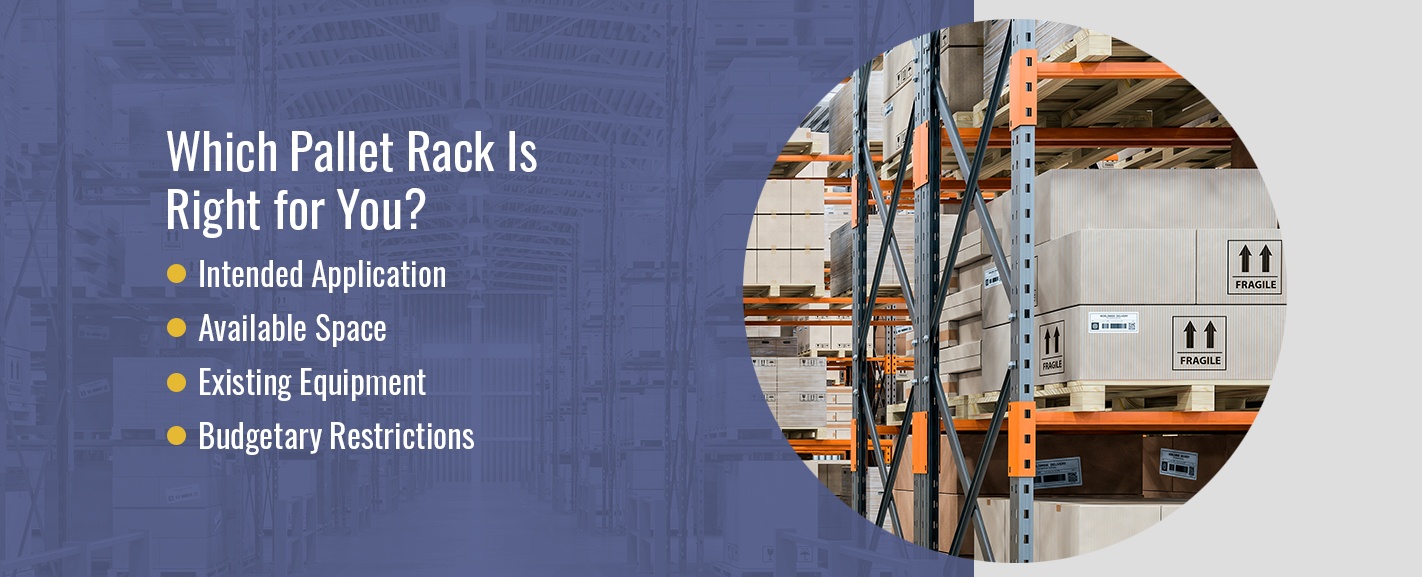 1. Intended Application
Consider your product and the way you plan to use your racking systems daily. For example, perishable grocery store items would best benefit from a carton flow system because they offer a simplified, economic first in, first out solution.
Gather the following information about your inventory:
Weight: When calculating weight, consider the total weight of both your average pallet and the weight of your heaviest loads. If you have a rotating inventory with new products, consider your industry — what sort of products do you anticipate working with in the future and what level of weight support or bracing do they require?
Variety: Variety refers to the different types, sizes and items in your pallets and how often you need to retrieve them. For instance, drive-in and drive-thru pallet racking systems are great when you need to save floor space but make individual product selection nearly impossible and are better suited for bulk orders of the same product.
Duration: Do you need a permanent installation, or would your business benefit from a pallet rack with more mobility and flexibility? Slotted racks are easier to reconfigure than structural and double-slotted designs.
2. Available Space
Your available space will help you choose how many and what size of pallet racks you need:
Height: Measure the distance between your floor and ceiling and the height of your tallest average pallet to calculate the right measurements for your beams. Remember to allow plenty of headroom between the top of the pallet on the highest shelf and the ceiling. If you use forklifts, factor in how high they can reach when designing your layout.
Square footage: Smaller spaces need to maximize floor space and should seek racking systems that are easily stackable and have ample depth and weight capacity. Don't forget to factor in enough width for retrieval aisles and forklift operation.
Temperature: Cold storage for food and beverage or pharmaceutical companies should seek racks that can withstand extreme temperatures and sanitization, like some push back, double-slotted or structural racks are designed to do.
If you plan to expand operations, you may want to look for a pallet racking system that will easily adapt to changes, like slotted variations, rather than structural or mobile.
3. Existing Equipment
Consider your existing equipment and methods. If your warehouse relies on forklifts, impact-resistant racks should top your priority list. If the rest of your facility is connected to automation technology, then mobile racking systems may be the best integration. Consider your product and current retrieval methods — does first in, first out work for your inventory, or do you require a more accessible layout?
4. Budgetary Restrictions
Your budget will inform whether you should invest in new or used pallet racks and give you an idea of how much space each pallet rack should be optimized for. For example, if you can only afford a few racks, you need to make sure that those racks are designed for maximum load-bearing capacity to get the most use out of them. You should also consider the installation cost — including bolts, connectors, bracing, anchors and welding — and ongoing maintenance. Remember, the more durably a rack is constructed, the longer it will last and the less likely it is to break.
Shop T.P. Supply Co for Your Pallet Rack Needs
T.P. Supply Co has the commercial and industrial pallet racking systems, components and accessories you need to optimize your existing space, save employee work time and transform your daily operations to be safer and more efficient. Shop our inventory of different pallet rack styles, including individual beams, uprights and decking, to create the best layout for your business. You can also contact us today to schedule professional rack installation.