The 5 Most Common Warehouse Injuries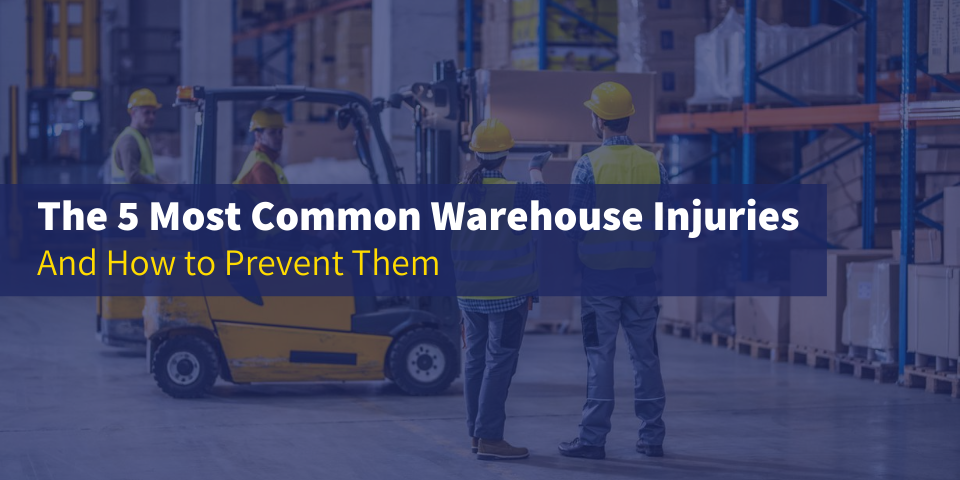 Warehouses contain several personal injury risks related to elements like forklifts, trucks, heavy machinery, lifts, ladders, conveyor belts, shelves and greasy floors. Ensuring the safety of any warehouse workplace environment is imperative to the well-being of employees.
According to OHSA, the number of forklift-related accidents reaches almost 100,000 per year, including 61,800 non-serious accidents, 34,900 serious injury accidents and 100 fatal accidents. Learning to prevent these and other common injuries will keep your workers safer and ensure your compliance with industry regulations.
Common Warehouse Injuries and How to Prevent Them
Here are the five most common warehouse injuries and how to prevent them.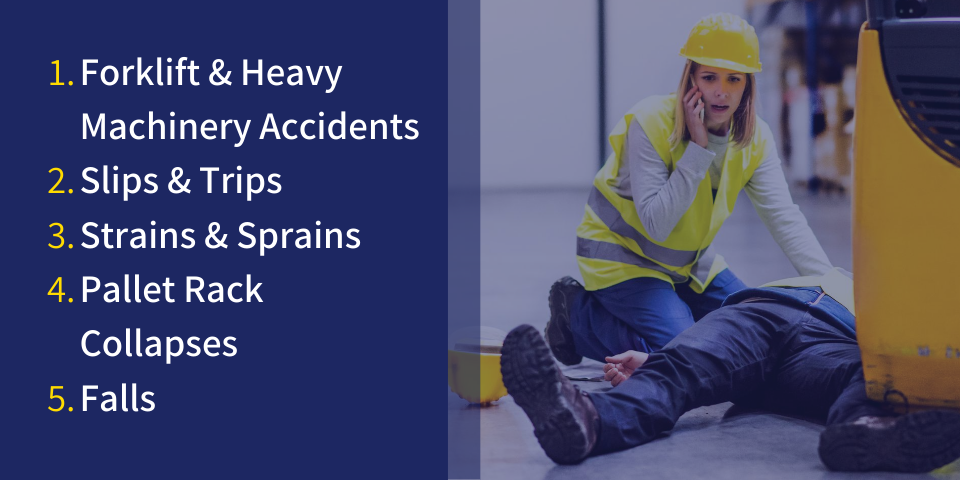 1. Forklift and Heavy Machinery Accidents
Warehouse workers can suffer severe or even fatal injuries while operating heavy machinery and forklifts. These employees rely on extensive equipment to move stored merchandise to and from the warehouse and trucks. To avoid forklift and heavy machinery injuries, be sure to implement protocols and safety training regarding this equipment's operation.
2. Slips and Trips
The tall stacks of goods and narrow aisles typical of warehouse environments can easily compromise visibility and lead to slips and trips. Slipping and tripping over certain materials or even spilled liquid can cause warehouse injuries that range from non-serious to fatal. Avoid these common warehouse injuries by:
Ensuring your warehouse maintains adequate lighting.

Removing unnecessary ridges or steps.

Encouraging employees to refrain from leaving items like boxes, goods and cargo unattended on the floor.

Prompting workers to keep lights on and move materials away from the center of the aisle if they need to leave the floor temporarily.

Placing visible signs on the floor and cleaning up as soon as possible when something is spilled.
3. Strains and Sprains
Strains and sprains are some of the most common warehouse injuries. Warehouse work often requires employees to move heavy boxes or other materials throughout the day. Repetitive motions, such as lifting and bending, can cause musculoskeletal injuries. To prevent these injuries:
Make sure warehouse employees have proper training and adequate personal protective equipment.

Avoid putting too much pressure on workers to meet specific demands that can lead to muscle sprains and overexertion.
4. Pallet Rack Collapses
Pallet rack collapses can cause internal organ damage, traumatic brain injuries and even death. Workers can suffer life-threatening injuries if a collapsing rack pins them to the ground. To avoid these types of injuries:
Make sure you invest in pallet racks built in accordance with accepted safety standards.

Avoid over-encumbering pallet racks with too much weight and running forklifts into the racks.
5. Falls
Working with heavy equipment and materials at high elevation increases the potential for employees to fall and suffer severe injuries. According to the U.S. Department of Labor, tripping, slipping and falling are the most common general industry accidents. These incidents make up 15% of all accidental deaths and cause warehouses to lose more than 95 million total workdays each year. To prevent falls in your warehouse:
Repair uneven floor surfaces as soon as possible.

Provide adequate lighting for warehouse workers.

Equip your workplace with straps, security guard rails and even nonslip mats.
Schedule a Warehouse Inspection Today
T.P. Supply Co. offers safety and security, material handling, shelving and storage solutions. If you have questions about our safety and security equipment — including aisle protection products, guard rails, machine guarding panels and posts, wire partitions and more — contact our experienced staff today.
For every Husky Rack and Wire product you purchase from T.P. Supply Co., you'll receive a 48- to 72-hour QuickShip. Bulk order pricing is also available if you call or complete our online contact form.
If you'd like additional information before ordering, visit us online to learn more about our material handling and storage solutions, pallet racks and bulk racking systems. To request an estimate, try our customized quote tool today.