How Much Does It Cost to Install Warehouse Pallet Racking?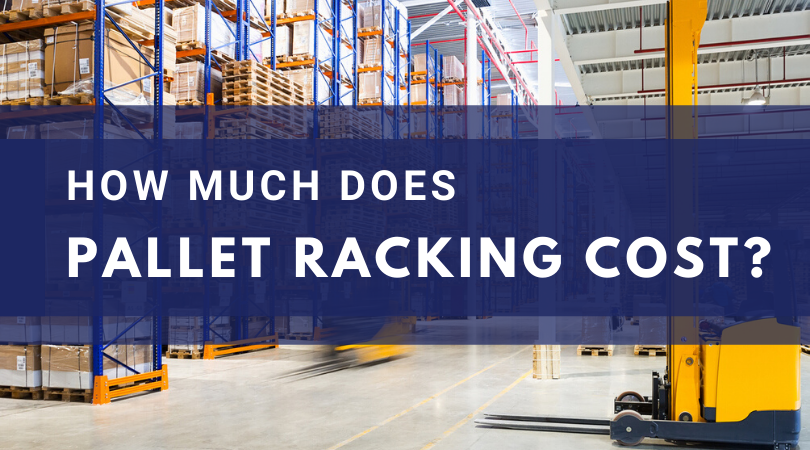 Many warehouse operations depend on pallet racks. They are sturdy, provide reliable storage and come in many varieties that can be customized to fit a range of specifications. The warehouse racking cost per square foot varies based on a number of factors, especially the type of pallet system you choose.
View Our Pallet Rack Solutions
Here's a quick breakdown of common pallet racking systems, their benefits and an estimate of how much you can expect to pay for each.
Types of Warehouse Pallet Systems
There are several options to consider before installing pallet racking. For example, to accommodate a higher density of products on the shelf, you may need to compromise when it comes to ease of accessibility. Budget is also a concern for any business. In general, higher density will translate to an increased warehouse racking cost. Keep reading to learn more about pallet rack shelving prices.
Single-Deep Pallet Racks
A single-deep pallet rack is composed of single bays that can be easily moved. The single-deep racking system is the simplest pallet racking system and is among the most popular storage solutions for small to medium warehouses.
Benefits:
Ideal for storage in small spaces
Offer high visibility for forklift operators to ensure safety
Low density allows easy access to each pallet
Cost of a single-deep pallet rack is relatively low
Estimated Single-Deep Pallet Racking Cost
On average, a single-deep pallet rack costs around $50 to $80 per pallet position.
Double-Deep Pallet Racks
A double-deep pallet racking system adds a second row of pallets to the bay. Visibility and accessibility are slightly less than you can expect from single-deep pallet racks, but the density of product supported is significantly higher.
Benefits:
Hold a higher density of products
Eliminate the need to buy or rent more storage space by using the current space more efficiently
While accessibility is slightly lower than that of single-deep racks, the difference is not significant
Estimated Double-Deep Pallet Racking Cost
Double-deep pallet racks cost around $80 to $200 per pallet position on average.
Gravity-Flow Racks
These racks are an ideal storage solution for warehouses that move products on a first-in, first-out basis. New pallets are loaded onto the rack from behind, pushing pallets with older products to the front for easy forklift access.
Benefits:
Offer high-density storage
Make it easy to keep track of product turnover
Offer easy access to the products that need to go out first
Estimated Gravity-Flow Pallet Racking Cost
These high-density racks cost an average of $200 to $400 per pallet position.
Additional Pallet Racking Costs to Consider
You should expect to pay a higher warehouse racking cost per square foot for high-density racks. Consider how much storage you need before deciding on a pallet racking system for your warehouse. Keep in mind that most warehouse shelving price estimates will not include the cost of sales tax, and further customization will create additional costs to consider.
Column guards and bumper posts protect individual racks in the warehouse from potential damage caused by forklifts. If you are operating in a tight storage space, column guards or bumper posts may be a particularly wise investment. You can expect the cost to vary from $50 to $300 each.
Get a Customized Quote for Pallet Racking
There are many factors that go into determining the cost of pallet racking systems. Take out the guesswork by completing our customized quote form today. T.P. Supply can help you design a pallet racking system that fits your needs and your budget.
T.P. Supply offers the whole package, from estimates to delivery and installation. We send our own trusted employees — no outside contractors. Contact us today for more information about racking systems and to discuss your material handling equipment needs.