Primary components of Pallet Rack Systems

Pallet racks, or pallet racking systems, form the interior skeleton of most American warehouses. Racks make your pallet storage and retrieval simple and safe. That's provided you've determined your pallet rack weight capacity and never exceed it.
View Our Pallet Racking solutions
You've probably wondered how much weight you can put on pallet racking, and how storage rack capacity is calculated. Engineers and designers determine pallet racking load limits by taking stock of the structural load-bearing capacity of each rack system component. Combined, each component contributes to your rack's integrity, and this is how they determine rack capacity.
Calculating warehouse racking capacity is a mathematical exercise more than a theoretical expedition. Engineers are practical people, and they follow known information such as proven tables that prescribe known weight limits for rack components based on their physical size and metallurgic composition. From existing information, they know how to calculate pallet rack load capacity.
Looking at Pallet Rack Systems
By definition, rack systems are combinations or assemblages of parts that form a solid whole. Warehouse rack systems are a set of correlated members that tie together making an organized structure capable of supporting a limited weight in loaded pallets. It's a case of the whole arrangement being a sum of its parts.
Each pallet rack system part or component serves one purpose. That's to transfer gravitational pull or weight to the ground. However, each rack component acts individually, and they work in conjunction with other parts to get their job done. Before delving into how you determine pallet racking system weight limits, let's look at the primary components you'll find in your racks.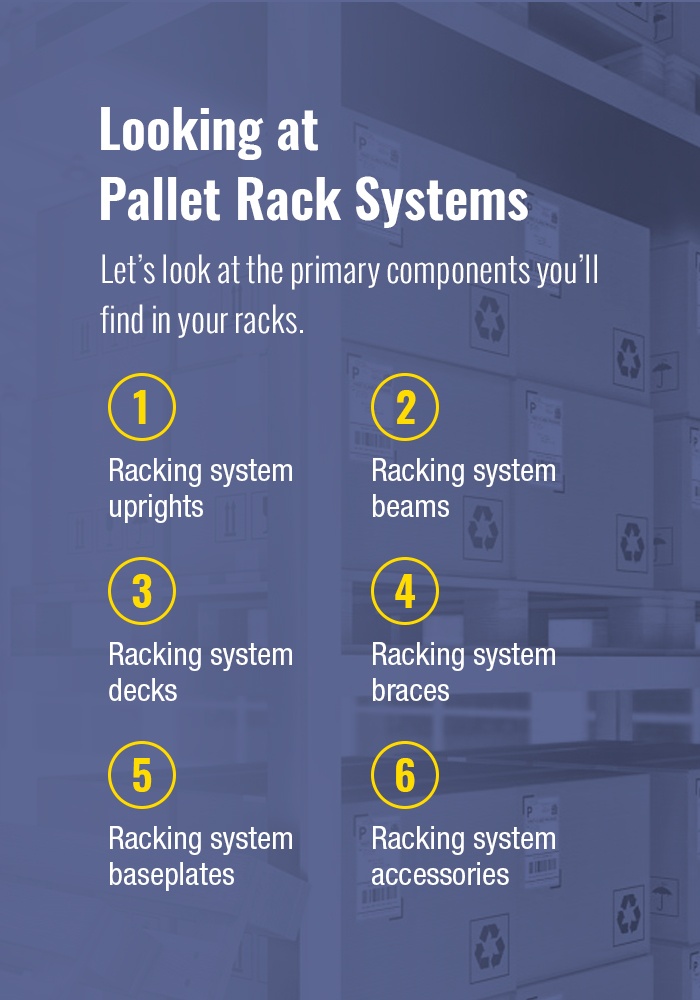 Contact T.P. Supply for All Your Pallet Racking Needs
T.P. Supply is your best partner for determining your pallet rack capacity. We've worked with warehouse owners, operators and managers since 1979. Since then, we've specified thousands of fail-safe racks for businesses across America and beyond.
Reach out to T.P. Supply today for your rack systems and other material handling equipment. Call us at (877) 302-2337 or contact us online.