What is Adjustable Pallet Racking?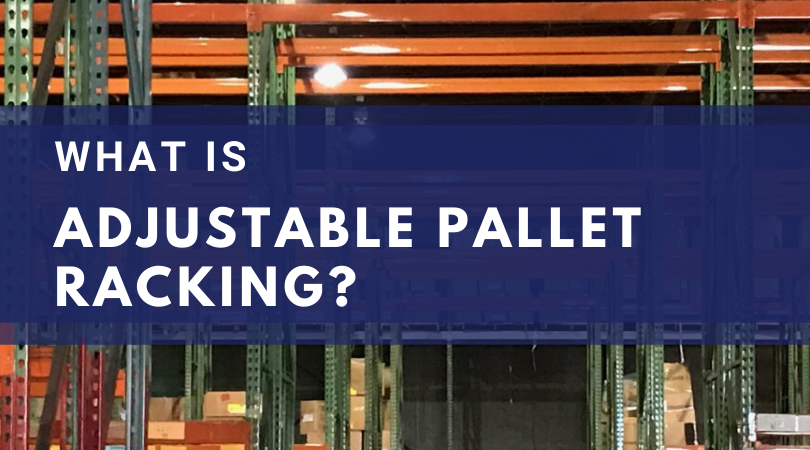 Pallet racks are reliable storage units found in many warehouses worldwide. They save floor space for foot and forklift traffic by stacking loads vertically. They are constructed from high-grade steel and manufactured in multiple sizes.
At any business, materials are stored in different ways. Items will vary in height, width, weight and shape, and at times there may be too little or too much space available.
The use of adjustable pallet racks lets you shift the dimensions of your storage structures, saving areas in your warehouse from being wasted. Adjustable pallet racking (APR) systems also allow for customization and modifications to shelve and retrieve materials efficiently.
View Our Pallet Rack Solutions
The Functions of Adjustable Pallet Racking
APR systems are among the most common storage configurations in warehouses. Adjustable pallet racks are modular frames of steel assembled from uprights and horizontal beams. The overall size of the frames in your warehouse depends on forklift capabilities and reach.
Pallet uprights are often designed with teardrop punches to change the position of the beams incrementally. For example, our Husky Rack & Wire uprights have holes spaced every two inches for finely tuned height between levels. Other uprights may have round or rectangular punches.
Several accessories pair with adjustable pallet racks, including:
Column protectors: Prevent damage to uprights caused by forklift bumps
Pallet supports: Accommodate how different materials sit atop the beams, with designs like structural, double flanged and hat style
Pallet spacers: Spread back-to-back pallet rows an equal distance apart
Containers, baskets or cradles: Collect loose parts or objects that can roll
Consider the types of materials that you transport around your workplace, and factor the additional investment into accessories that will keep your pallet racks and merchandise safe.
Adjustable Pallet Racks Increase Workplace Ergonomics
APR systems are inexpensive to install and ideal for businesses in any industry because of their versatility. Tailoring the accommodated space is as simple as unbolting and reattaching the beams. The height and width of your storage can be adapted when necessary to meet the volume and dimensions of your items for a seamless reorganization process. Pallet racks maximize the overall space of your inventory so more goods are stored without compromising safety.
Forklift carriers have open access to the aisles where materials rest on pallet racks. Handlers will locate and retrieve these containers faster, improving workflow and productivity. Saving time and effort will lower the cost of your warehouse operations.
Get Adjustable Pallet Racking Systems for Your Business
At T.P. Supply Company, we offer the complete package. In addition to our extensive inventory, we can configure and install pallet racks across the United States. Our team of professionals will assist in setup, relocation or takedown of your storage systems so your materials are exactly where you want them. All of our Husky products qualify for 48-72 hour QuickShip with bulk order pricing available by phone or through our online quote form.
Contact us today for more information about adjustable pallet racks and get help choosing the right configuration for your warehouse storage.