Warehouse Racking Inspection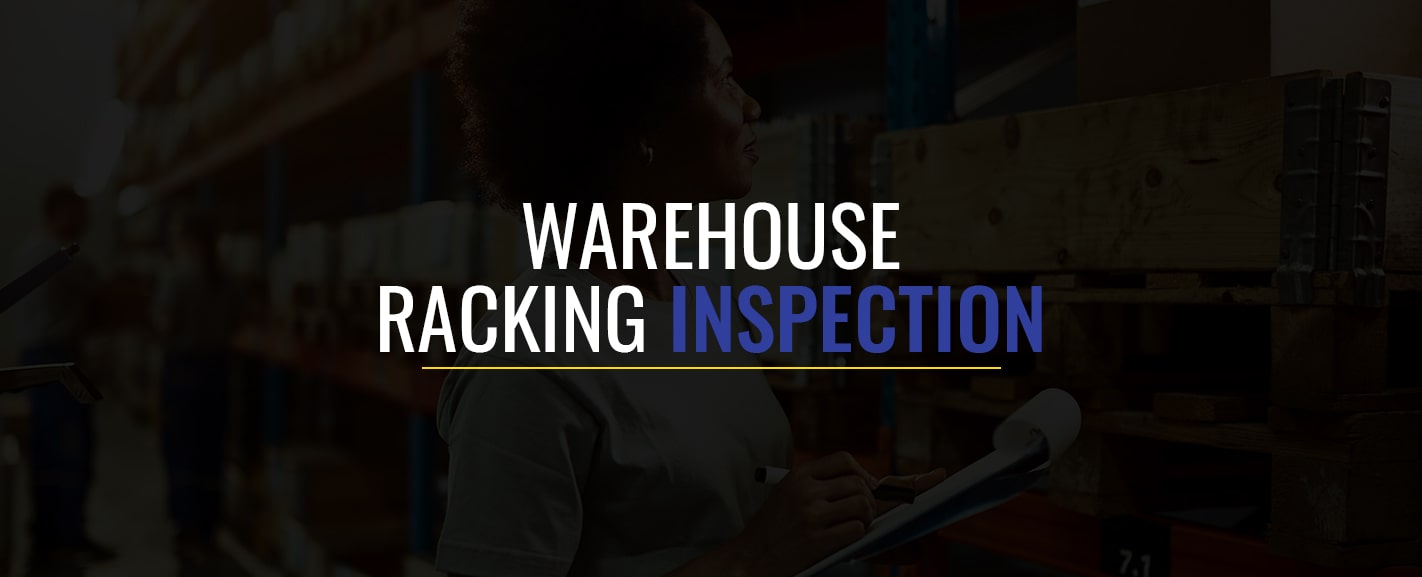 Pallet racks are popular for warehouse storage due to the massive amounts of weight they can handle. They're also safe as long as you load them correctly and prevent forklift collisions.
Workers who accidentally damage pallet racks may hesitate to report the incident, and other damage may go unnoticed. It's important to perform periodic pallet rack inspections in your warehouse to compensate for unseen and underreported issues.
How Often Should Warehouse Racking Be Inspected?
How often you check your pallet rack system is ultimately up to you. However, you should have an OSHA-qualified person inspect your warehouse racks at least once a year. You'll often want to have someone on staff who can inspect your pallet racks more often. For instance, you may want more frequent inspections in areas with:
High traffic.
Narrow aisles.
Prior damage.
Depending on how prone to damage the different areas of your warehouse are, you may want to perform inspections anywhere from twice a year to once every month. You should also perform inspections immediately after a pallet rack receives damage, making it essential to have someone who can perform inspections on staff.
Beyond Periodic Inspections
In addition to including inspections as a regular part of your routine, you may also want to perform them if:
You install a new rack.
You're initiating a corporate safety initiative.
You repair one of your racks.
You've had an earthquake in your area.
You're acquiring a new warehouse.
You want to optimize your warehouse processes.
To make future inspections easier, you should also keep a record of each assessment, including the schedule and results. If you notice you're missing documentation on past inspections, it might be time to schedule one, so you can ensure you're up to date in the future.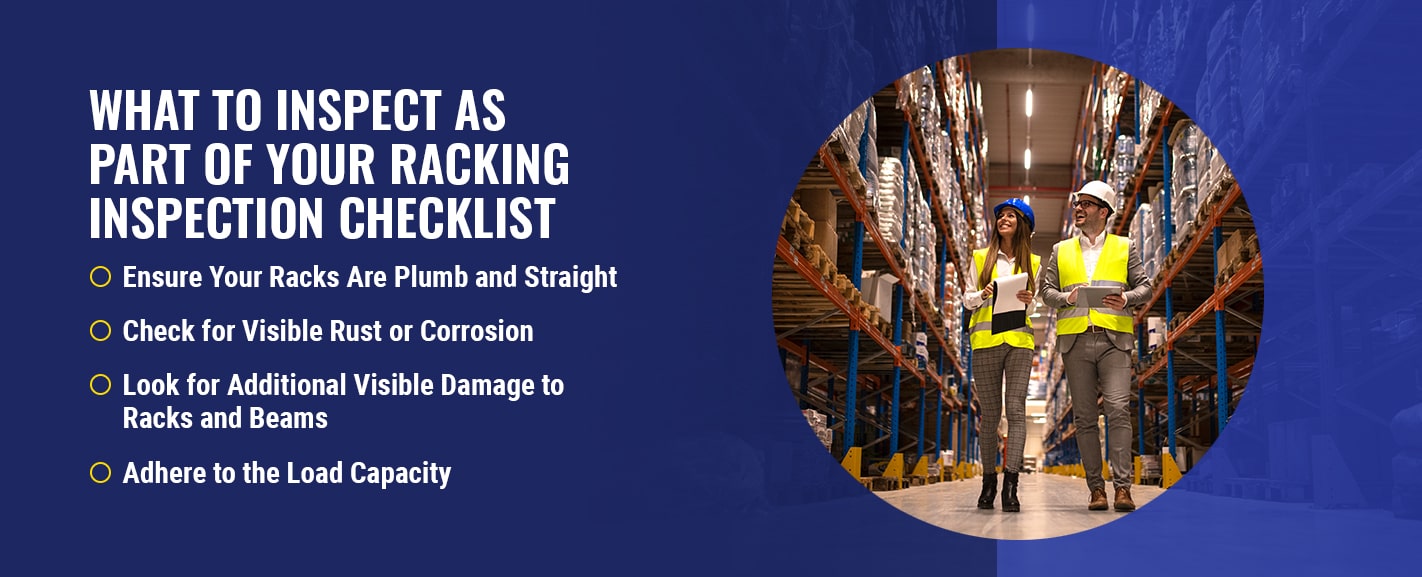 What to Inspect As Part of Your Racking Inspection Checklist
Inspections help ensure you adhere to pallet rack safety regulations at your warehouse. Create your pallet racking inspection checklist based on the following steps:
1. Ensure Your Racks Are Plumb and Straight
You'll want to check if rows and racks are correctly aligned. Measure from the top of your pallet rack beam straight down to the floor to see how far out of alignment your rack is.
Your loaded pallet rack might be out-of-plumb or out-of-straight if the ratio is higher than 1-to-240 inches, or 0.05 inches per foot of height. For example, a 16-foot-tall rack can safely lean or bow out 0.8 inch. Hints to an out-of-plumb pallet rack could include visible leaning or crooked racks.
2. Check for Visible Rust or Corrosion
Visible rust or corrosion can indicate weakening metal. Corrosion can lead to the metal breaking down, causing the pallet rack to cave in. You should also look for chipped paint, which could indicate the pallet rack suffered a collision and will need repair.
3. Look for Additional Visible Damage to Racks and Beams
Damage to one piece of the pallet system can affect the integrity of the entire structure. Some parts of the pallet system to check for damage include:
Beams: Check for dings, twists and scrapes in beams. Like rust and corrosion, dings and scrapes can indicate that a forklift bumped into a rack. You may feel wary about replacing beams that seem only minorly damaged, but it's easier and more cost-efficient to replace a beam than an entire collapsed system.
Connector hardware: Pallet systems use attachments like pins, clips or bolts. During your inspection, check that all hardware attachments still fit tightly and are free from damage.
4. Adhere to the Load Capacity
An essential part of pallet rack inspection requirements is ensuring you comply with the manufacturer's published load capacities. Ensure that you have this information clearly displayed at the end of aisles, so employees remain aware of how they can load onto the pallet racks.
You should never alter the manufacturer's load capacity without first receiving approval from an engineer. If you do change the load capacity, remember to print a new placard for the end of aisles with the updated information.
Correct any instances of overloaded pallet racks during your inspection. Overloading can bend a beam out of its natural position and cause beam deflection, so be sure to watch for it during your racking system inspection. According to American National Standards Institute, the maximum allowable deflection is the length of the beam/180 inches.
Make Sure Your Warehouse Is Up to OSHA Standards
The Occupational Safety and Health Administration (OSHA) provides guidelines to help ensure a safe workplace. Some of their standards for warehouses include:
Forklift certification: Only employees with the proper certification can operate a forklift. This requirement minimizes the chance of harm done to employees in the workplace.
Proper storage methods: Employees must stack materials on pallet racks according to OSHA guidelines. These guidelines include stacking, interlocking and limiting the height of materials to prevent sliding and collapse.
Emergency planning: Workplace emergencies can put employees, customers and the public in danger. Warehousing employees should have a plan in place to handle emergencies safely. Considerations include creating exit routes, preventing chemical spills, ensuring a first-aid provider is on scene and controlling fire hazards.
Preventing slips and falls: Keep floors clear of hazards that can cause falls and monitor OSHA'S standards for stairs, ladders and ledges.
Handling of hazardous chemicals: Some chemicals you may store in your warehouse can cause harm to employees and require safe and careful handling. Ensure you have the proper certification to house these chemicals and ensure your workers are equipped to handle them.
Ergonomic disorders: Exposure to poor ergonomics in the workplace increases an employee's risk of musculoskeletal disorders (MSDs). Encourage ergonomic safety in the workplace by providing seats with adjustable lumbar support and limiting case weights.
You can find more information about keeping warehouses a safe place for employees on OSHA's website.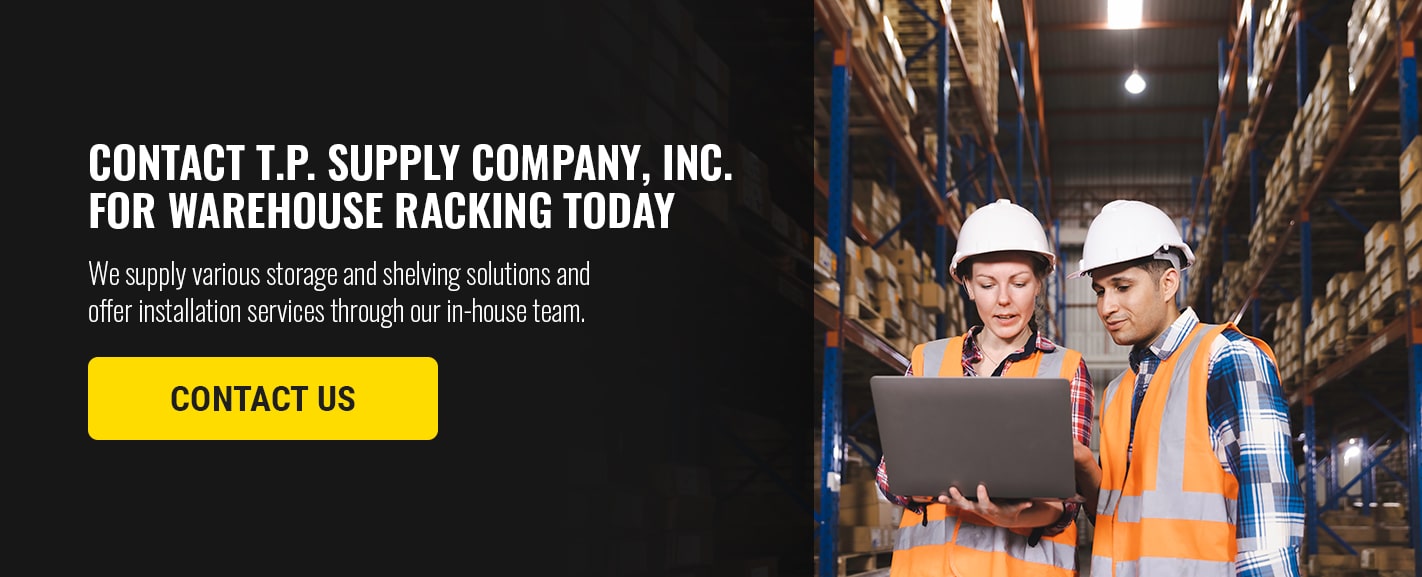 Contact T.P. Supply Company, Inc. for Warehouse Racking Today
T.P. Supply Company, Inc. began in 1979 and has grown steadily every year. We supply various storage and shelving solutions and offer installation services through our in-house team.
We offer different types of pallet racks, including teardrop, keystone, structural and double-slotted racks. These industrial pallet racks can significantly help businesses maximize their existing space safely, increasing efficiency, safety and potential transactions.
Finding the right shelving system for your business can be challenging, and we're here to help. If you are interested in installing pallet racks in your warehouse, give us a call at 877-302-2337 or contact us online today. We'd love to hear from you and answer any questions you may have!