Top Uses for Cantilever Racks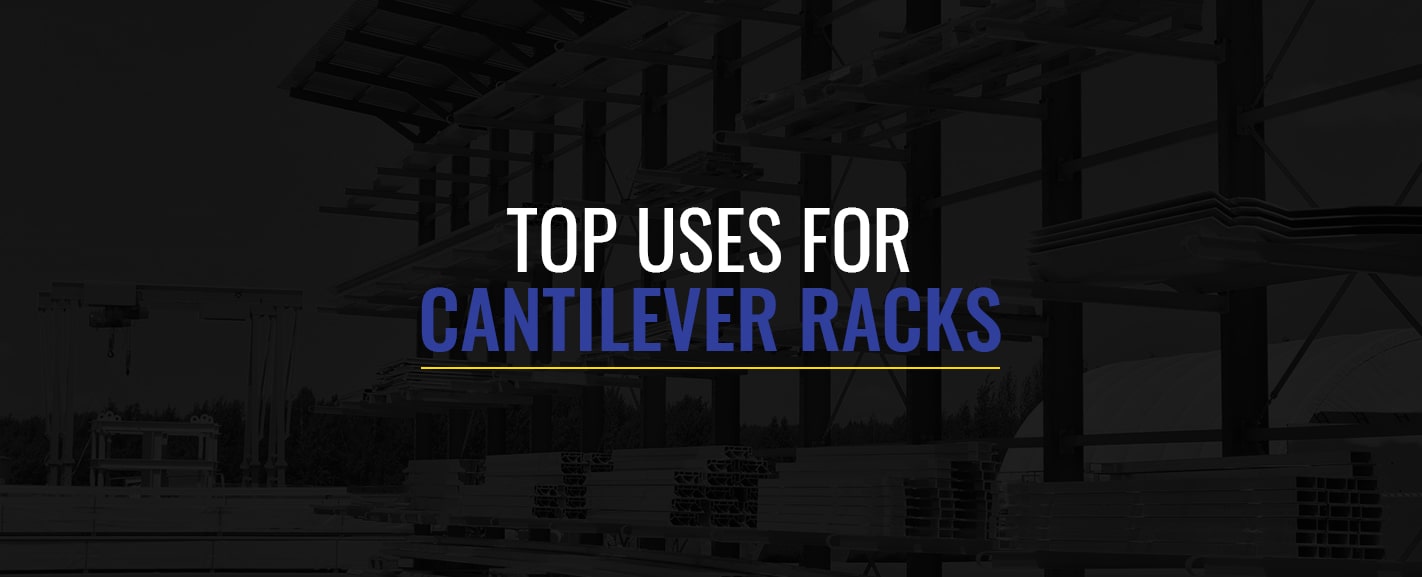 A cantilever rack can store many types of products ranging from light- and medium-duty to heavy- and extra-heavy-duty. As a result, it's possible to configure your cantilever rack in countless different ways to fit any storage need. Whether you require shelving for an indoor or outdoor space, cantilever racking is a flexible storage solution for pieces that have proved challenging and cumbersome to store with traditional methods.
What Is a Cantilever Rack?
These racks are heavy-duty shelving units designed to store long, bulky items. The rack arms extend from metal frames to create different shelf levels used for storing lumber, plywood, PVC, iron pipe, metal sheets, steel bar stock and more. A heavy-duty cantilever racking system consists of the following components:
Uprights: The upright column and base are the main structural components and are available in single- or double-sided configurations.
Rack arms: Customizable canted or straight rack arms make up the shelf levels used for storing items.
Rack bracing: Either horizontal braces or x-braces stabilize the rack laterally, and should only be used to connect and brace the uprights in a row.
These components must work together to create larger bays and rows of storage for various applications.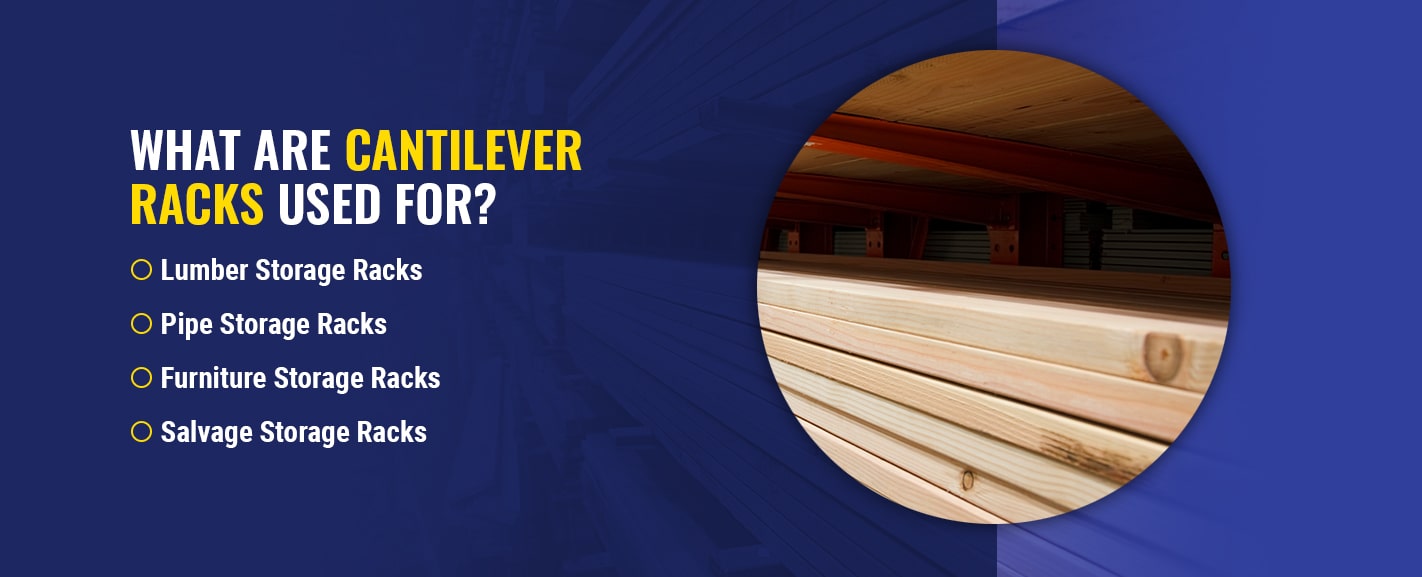 What Are Cantilever Racks Used for?
When used efficiently, the storage density with cantilever racks can be very high. As a result, heavy- and extra-heavy-duty cantilever racks have many uses, especially for storing lumber and pipe. Meanwhile, light-duty cantilever racking is primarily utilized for furniture storage, and medium-duty cantilever rack systems make it easier to access motorcycles, boats, jet skis and other vehicles.
For these reasons, many industries use cantilever racks as a revolutionary storage solution for their particular materials or products.
Lumber Storage Racks
A series of cantilever lumber racks can support substantial loads of lumber and plywood, as you can store building materials of practically any dimension or weight on the heavy-duty structural I-beams. These racks are perfect for lumber and plywood storage because they're designed to distribute the weight equally.
Specifically, commercial lumber and plywood storage racks can also store various other building materials, including:
Wood veneers.
Timber.
White oak.
Rods.
Beams.
Rebar.
Sheetrock.
Drywall.
Plasterboard.
Wall paneling.
A heavy-duty lumber rack can easily accommodate more than six shelf levels. The flexible support arm spacing ensures that you can configure the cantilever lumber rack for any shelving heights you need. Meanwhile, adjustable arm lengths help maximize floor space. Additionally, lumber storage racks can use single- or double-sided uprights, allowing the user to store materials on both sides of the rack with extra shelves when necessary.
For outdoor lumber storage, consider optional overhead roof structures to protect materials from rain, snow, ice and sun damage. The cantilever uprights can support various roof structures, including angled designs that can effectively shed water.
Pipe Storage Racks
A heavy-duty cantilever pipe rack is the preferred storage solution for PVC pipe, iron pipe and steel bar stock because:
They can support substantial loads of weight.
They use strong structural I-beams.
They have adjustable arm lengths.
They offer flexible support arm spacing.
They can accommodate six or more shelf levels.
Often, pipe storage racks are used to handle pipes, bars or tubing that can clutter facility floors and lead to potential hazards. Fortunately, it's easy to maximize storage space and keep these long, bulky materials off the floor with practical pipe storage racks. Compared to metal sheets, cantilever racks are the best option.
Furniture Storage Racks
In warehouses, furniture storage racks help regain floor space, making operations quicker and easier for order pickers. These storage options can help you eliminate obstructions that are difficult to maneuver around and improve forklift access to stored materials. Plus, you can quickly load long-length sofas and bulky cabinets onto the racks without anything blocking the front.
Other shelving methods may restrict access to stored materials, preventing forklift usage and increasing the time needed to perform tasks. Cantilever ranks ensure lift trucks can remove furniture without damaging the upholstery.
Since there are no vertical obstructions, cantilever furniture racks make it easy to store:
Sofas and couches.
Desks and tables.
Beds and mattresses.
Cabinets and dressers.
Other home furnishings.
These racks also work as storage and display units for carpet rolls and rugs. They keep the fabric from touching the floor and away from any dust, dirt and debris.
Salvage Storage Racks
Consider using salvage yard rack systems as a space-optimizing storage solution for automobiles and recycled materials. They make accessing and tracking inventory more efficient for:
Salvage yards.
Recycling centers.
Junkyards or scrap metal recyclers.
Components recyclers.
Any business requiring vertical storage.
Historically, vehicles and recycled components in salvage yards have been stored in rows directly on the ground. As space became more and more scarce, junkyards began stacking everything from cars, trucks and motorcycles on top of one another. This storage method limits access to most vehicles, making collecting components inefficient and time-consuming. Fortunately, salvage storage racks, or auto storage racks, provide an alternative for storing vehicles.
Automobiles last longer when stored above ground level, as weather conditions, moisture, weeds and rodents are less likely to harm vehicles kept on salvage storage racks. When there's less risk of deterioration and damage, salvage yards can collect more components from their cars and keep them rust-free for longer.
Using cantilever storage racks increases organization and provides better inventory control. Uprights are available in a wide range of heights and weight capacities, allowing salvage yards to store up to four vehicles vertically, depending on their needs. Additionally, boat storage, marinas and repair centers may utilize cantilever storage racks to achieve similar benefits when handling numerous boats or jet skis.
Benefits of Commercial Storage Racks
Using a cantilever rack for your commercial business can offer numerous advantages:
Easy to configure: Easily add, remove or reconfigure arms and other parts after installation.
Space-saving: Maximize as much horizontal space as possible to keep materials off the ground.
Time-efficient: Quickly store or remove materials from the shelves and improve inventory control.
Forklift-friendly: Maneuver forklifts around storage easily with no obstructions in front of the rack.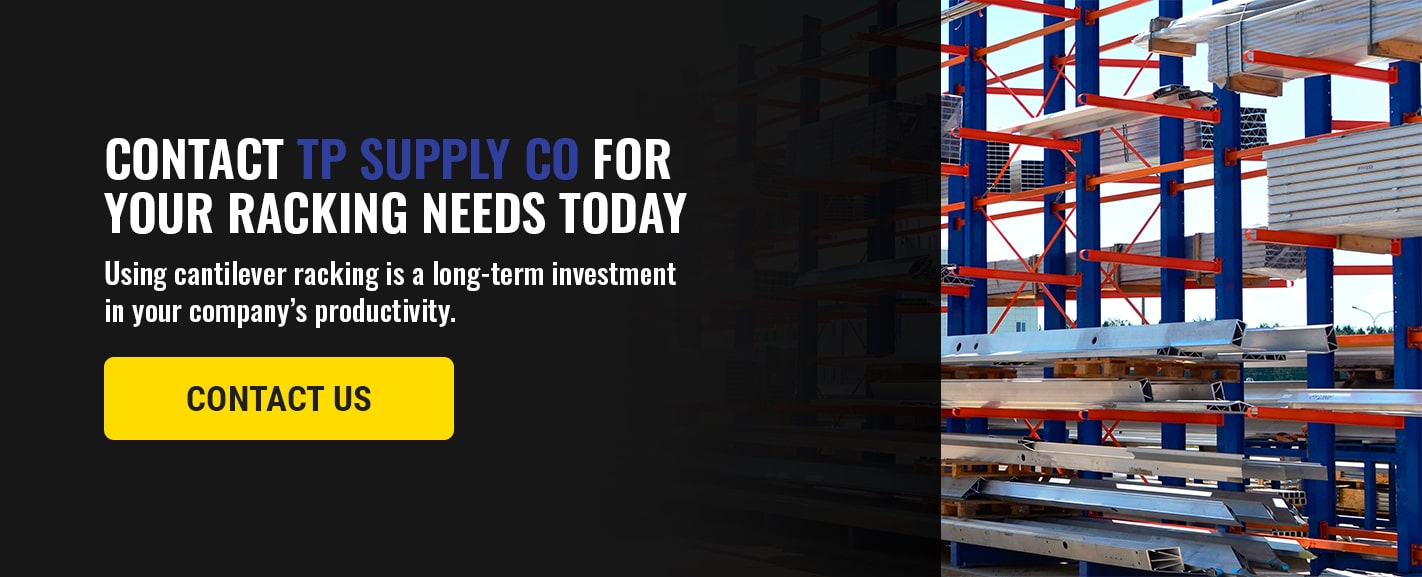 Contact TP Supply Co for Your Racking Needs Today
Using cantilever racking is a long-term investment in your company's productivity. Browse our cantilever rack system and other products to find items that work for your storage needs. Feel free to request a quote to learn how we can supply and install a customized racking system for your needs.