Using Minimum Warehouse Aisle Widths to Maximize Space

With today's real estate prices in the warehouse market, you must take advantage of all the useable space you have. While there's plenty of good advice about making the most of vertical space by filling your racks to the roof, there is another way to maximize warehouse space. An often overlooked warehouse design practice is to make the most of your warehouse aisle widths.
If you're wondering how wide your warehouse aisles should be, there are several important factors to consider. Minimum aisle widths in a warehouse aren't an exact measurement. Warehouse aisle width requirements largely depend on the type of material handling equipment you use.
Determining the minimum aisle width for a forklift relies on the forklift model and configuration. Forklift types have a significant impact on designing your optimum distance between pallet racking and industrial shelving. You can follow specific rules of thumb that indicate just how much space a particular forklift needs to operate safely and efficiently.
Reducing Aisle Width to Maximize Warehouse Space

Studies by supply chain consultants strive to help warehouse managers and operators like you squeeze every available square foot to maximize valuable floor space. Experts realize many warehouse operations fail to look at their cubic foot area as an integral part of the storage equation. Although warehouse values get calculated on a cost-per-square-foot formula, failure to think upward means leaving a lot of money on the table.
Smart operators realize the value in stacking products as high as they can. But even the thriftiest managers sometimes forget reducing aisle width to maximize warehouse space is another valuable key to efficiency. However, it's easier to talk about than it is to enact, and sometimes this strategy can work against you.
Professional warehouse designers believe once a warehouse achieves between 80 and 85 percent of filled floor space, it's reached maximum efficiency. Capacity above this becomes counterproductive when you don't have enough area to safely and smoothly pick and place products. That is why the very narrow aisle warehouse layout concept has gained in popularity.
It makes sense to reduce your warehouse aisle widths to free up more useable floor and vertical space. Warehouse designers work with these three aisle concepts and widths.
Wide aisle design: This is the typical warehouse design that's been around for ages. The wide aisle concept evolved due to the available material handling equipment of the time. These were conventional counterbalanced forklifts needing about 12 feet of aisle width to function. With tighter spaces, there wasn't enough aisle space to accommodate a forklift's body length, its load size and a reasonable amount of clearance for safe turning.
Narrow aisle design: As forklift designs evolved, they required less area for maneuvering in warehouse aisles. Design improvements happened partly because technology advancements made them more efficient in compact configurations. Forklifts also became smaller because of economics. Increasing floor space costs demanded improvements in area capitalization. As such, aisle widths reduced to meet compact lift sizes, which were about eight feet.
Very narrow aisle designs: This next generation of aisle width design is catching on in new warehouse construction. Some companies are even renovating their older and existing warehouse facilities to meet the very narrow aisle layout. These aisles are size-reduced to less than six feet. That might seem like tight quarters, but modern forklifts made for very narrow aisle applications make out just fine. Very narrow aisle designs aren't the wave of the future. They're here to stay, and they are highly effective in maximizing your warehouse space.
How Wide Should My Warehouse Aisles Be?
The maximum aisle width for a warehouse depends on what the material handling equipment requires to safely navigate the corridors and efficiently pick products. The aisle width also depends on the products placed and the type of pallets in use. There is no precise measurement. Widths are entirely relevant to how the overall warehouse functions.
There are, however, specific parameters and guidelines you need to consider when designing efficient and highly productive warehouses. It begins by appreciating how much additional space you can gain by narrowing your aisle widths. For instance, reducing your aisle width from 12 feet to eight feet gives you an extra 15 to 20 percent of storage area. That, in itself, is a significant saving and an excellent method of increasing warehouse capacity without physically expanding your building.
If you're considering redesigning your warehouse to a narrow aisle configuration, it's worthwhile reviewing the different forklift types that work with varying widths of aisles. While lift trucks designed for narrow aisles will operate well in wide aisles, the opposite certainly isn't true. Here are the common forklift designs on today's material handling equipment market and the minimum aisle widths they need to function.
Sit-down counterbalanced forklift: By far, this is the most common forklift in American warehouses. The sit-down counterbalanced lift truck may be the most popular material handler in the world, but it takes up a lot of space. Most of these designs have elongated chassis to accommodate the heavy, rear-mounted counterweight that balances the load in the mast and carriage. As a rule, sit-down counterbalanced forklifts need aisles at least 12 feet wide to handle standard 48-inch pallets.
Stand-up deep-reach forklift: These material movers are made for narrower aisle work than conventional sit-down machines. They still work on a counterbalancing principle that offsets the load, whether in a raised or lowered position. Operators stand up in deep-reach forklift designs, which save space from the operator area decreasing to accommodate a vertical driver profile rather than the more space-consuming semi-horizontal position. Deep-reach stand-up machines need an approximate minimum aisle width of nine to 11 feet, depending on the manufacturer's design.
Stand-up single-reach forklift: Single-reach forklifts designed for standing drivers use less aisle room than their deep-reach cousins. That is because the fork extensions aren't designed to pick from double pallet racks. They're only capable of operating in single pallet racking environments. Single-reach forklifts have a smaller footprint due to reduced tine extension length. Depending on the particular forklift model, a single-reach design might be a foot shorter than a deep-reach machine. That can reduce the minimum aisle width required for a single-reach stand-up forklift to eight feet.
Turret or swing-mast narrow aisle forklift: Turret forklifts operate in tight and confined aisles. They have a unique design in that the mast swivels or turns 90 degrees from the forklift body to let the driver move the machine through a tight corridor. When ready to pick, the operator swings the mast to either side. The forks then extend and deal with the product. Once placed or pulled, the turret returns to its regular axis to the forklift's centerline, and the driver can continue navigating in a narrow space. Swing-mast or turret lifts need between four feet six inches and five feet six inches of aisle width.
Narrow aisle order picker: These mini-forklifts work well in very narrow warehouse aisles. Where space is a premium concern, there's nothing more efficient than a narrow aisle order picker. These highly compact material tools get in and out of confined spaces easily. Most narrow aisle designs have walk-behind controls, rather than operators sitting or standing on them. Many modern warehouses opt for narrow aisle order pickers, as they save a tremendous amount of valuable floor space. Narrow aisle forklifts work in aisles as tight as four to five feet.
Calculating Minimum Aisle Width for Forklifts
Determining the minimum aisle width in your warehouse is a crucial decision. You certainly don't want to give up valuable space by making your aisles unnecessarily wide. However, it would be a disaster to set your racking and shelving components too close together.
Calculating the minimum aisle width for forklift travel and operation is a compromise. You need to know your exact forklift parameters and what absolute physical requirements they require to function within. That starts by being familiar with your forklift characteristics. Here is the primary information you must consider about your forklifts before you can comfortably calculate the minimum aisle width they can fit in.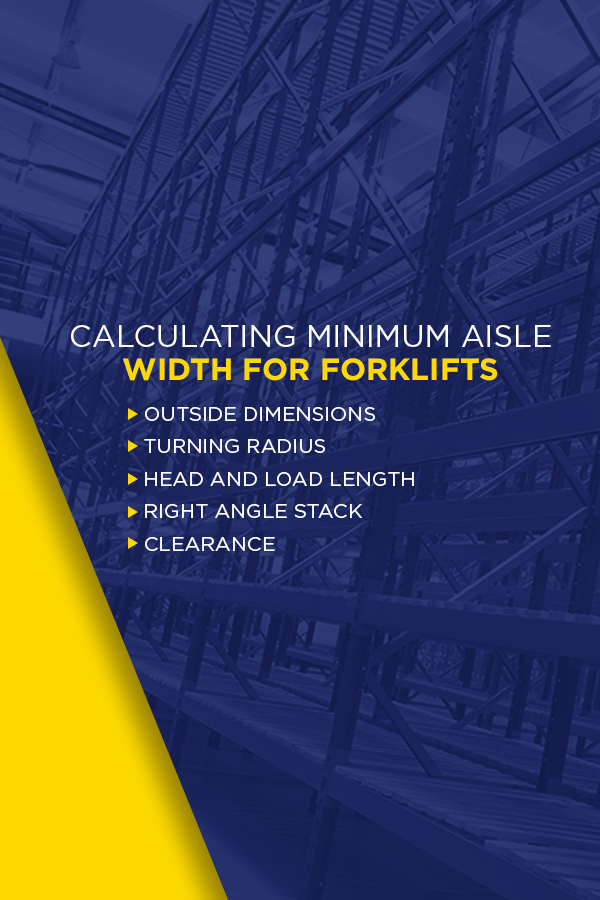 Outside dimensions: Forklifts are three-dimensional machines. They have fixed lengths, widths and heights. Forklift height is not usually an obstacle to setting minimum aisle widths. Some forklifts can reach 30 or more feet with their mast fully extended. However, your forklift's length and width represent restrictions. The most restrictive measurement is its width, as this is the bare minimum aisle size it can pass through.
Turning radius: If you're operating a sit-down counterbalance forklift, you need to compensate for the circle it needs to turn within. By design, most forklifts have a tight turning radius. That's especially so with three-wheel models. But even if your forklift can turn within its footprint, that will be at least the measurement of its length. Most forklifts are naturally longer than their width, and much of this is because of the tine or fork extensions.
Head and load length: Designers and manufacturers calculate forklift length through two measurements. First is the head length. That's the physical boundary between the machine's rear and the face of the mast where the forks start. The second measurement is the load length, which is not only how far forward the metal forks protrude. Load length includes the maximum size of the pallet or other loads the forklift handles.
Right angle stack: This measurement allows for the bare minimum your forklift needs to move a pallet from the pick or place position to a run configuration where the machine and load can safely navigate the aisle. As you can appreciate, the right angle stack adds to the outside dimensions and turning radius, as well as the head and load length. Here is where narrow aisle forklift designs conserve critical space by way of their plan and purpose. However, there are always some allowances to make for right angle stack when calculating minimum aisle width.
Clearance: No matter how carefully and precisely you calculate your forklift's maximum measurements, you still need to allow some clearance before you fix your minimum aisle width measurements. Clearance is a safeguard. There is no set formula for it. It's a better-safe-than-sorry figure, and it takes in an allowance for inevitable operator error. The suggested clearance rule of thumb from material management experts is to give yourself at least one foot of clearance.
Deciding How Wide Your Warehouse Aisles Should Be

One foot of clearance sounds like a lot of extra room when you're striving for maximum efficiency in minimum aisle layouts. In very narrow aisle warehouses, the foot of clearance could extend a five-foot aisle to six feet. That's a 20 percent increase in space, and that sounds like a lot of expensive room to give up.
You should always err on caution's side when deciding how wide your warehouse aisles should be. You need to start with your mobile equipment's limitations before setting your fixed material handling products in place. It's much easier to put your pallet racks or storage and shelving units in a safe position than it is to go out and purchase new material handling equipment to accommodate narrow warehouse aisles.
It makes good sense to narrow your aisles to a minimal size where your mobile equipment still functions. It is one of the best strategies to make the highest and best use of your storage space. However, calculating the minimum aisle size can be tricky. The best approach you can take is working with a nationwide distributor of storage products and material handling equipment.
Contact T.P. Supply Co for Storage Solutions
T.P. Supply is one of North America's top storage solutions providers. Since 1979, we've served the United States, Canada and Mexico with superb customer service and professional-grade products to outfit warehouses across the continent. Our warehouse racking, bulk rack, material handling, storage and shelving and safety and security products will make your warehousing tasks more efficient and economical, not to mention being a safer workplace for your employees.
View Our Pallet Rack Solutions
At T.P. Supply, we can even help design your warehouse layout. That includes expert services in calculating your minimum aisle widths. Here's what you can expect when working with T.P. Supply's warehouse design service:
Communicating with a warehouse design expert
Arranging an in-depth meeting to discuss client needs
Meeting to review and discuss the proposed design/layout
Receiving a guaranteed quote for materials
Considering the option for T.P. Supply professional installation
Signing off on a quotation and setting a delivery/installation date
Beginning actual material delivery and installation work
Signing off on the completed project
Although T.P. Supply will design and build you a maximum-capacity warehouse system that implements narrow and very narrow aisle configurations, we want to stop and caution you on a crucial point. No matter how tight you make your warehouse aisles, you can only go so far. Your forklifts have to safely navigate your warehouse corridors, and your staff has to efficiently pick orders. If you exceed the maximum capacity rule, you'll be too congested.
When you buy from T.P. Supply, you get a complete package. We can provide you with your materials in three different conditions to meet your budget: new, used or reconditioned. We deliver on trucks we own, and provide installation of your materials using our in-house installation crews. We do not contract out any work, and we are entirely self-contained.
Call T.P. Supply today and talk with our design experts about minimizing your warehouse aisle widths and maximizing your storage capacity. We're at, or you can reach us through our online contact form.