4 Uses for Wire Mesh Partitions in the Warehouse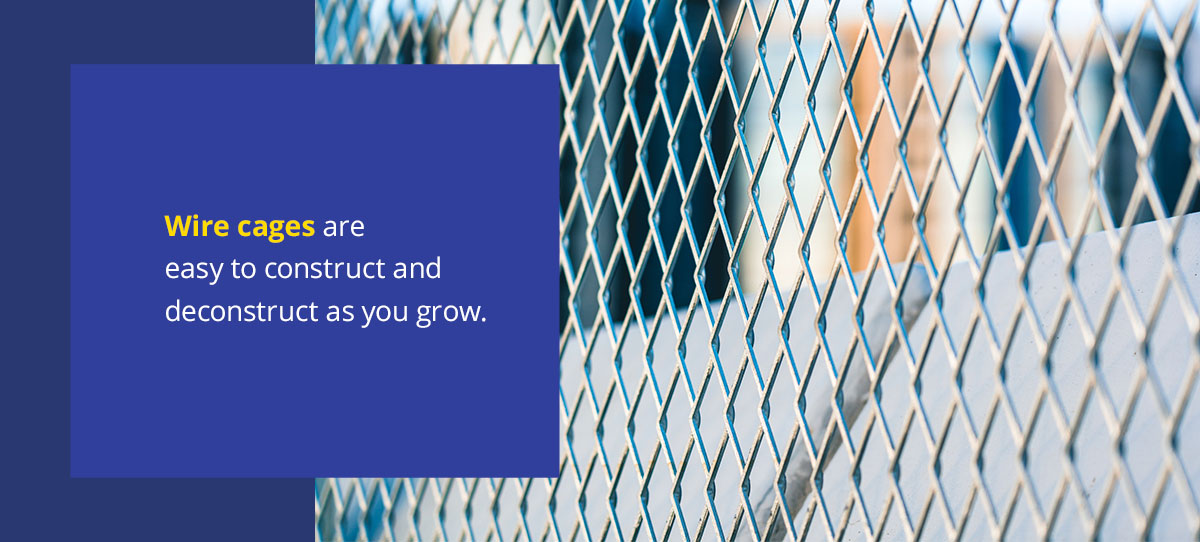 Wire mesh partitions are one of the easiest and most economical choices for managing the limited space in your warehouse while balancing safety and managing the flow of your workforce and inventory. While building new partitions often requires adjusting sprinkler systems and lighting, wire cages are easy to construct and deconstruct as you grow.
Security
Warehouse security is critical for managing employees, guests and potential bad actors. Wire mesh security cages are ideal for securing key areas because see-through mesh makes it easy to detect theft or vandalism. It's also versatile to keep these areas as small or large as necessary.
You also have size variation options from floor-to-ceiling wire mesh lockers to far smaller wire mesh areas. This variety allows for maximum cost and space savings while protecting everything from valuables to hazardous materials like flammable liquids. Though you may want employees to access these areas on occasion, it's often better for supervisors to control the flow of access for security. Security cages also keep guests from accessing potentially dangerous substances to prevent legal and safety regulation issues.
Protection
Another important use for mesh partitions is protecting guests and employees, as heavy equipment can pose significant threats to untrained workers and visitors. Wire mesh cages allow your team to see through the mesh to check the status of the equipment without accessing the technology directly. This extra layer of protection can potentially help prevent injuries and the risk of lawsuits.
A wire mesh partition can often mean the difference between unauthorized access and security for a warehouse environment, and it can serve in this role without limiting airflow or lines of sight to vital equipment.
Organization and Storage
Wire partitions also make it easy to organize designated work areas within a larger warehouse floor without sacrificing ventilation. For example, employers can construct a break room with hanging bulletin boards, seating and refreshments within a protected wire mesh area, without having to create a room separate from the factory floor. Supervisory staff can also create enclosed training areas to prepare staff to handle dangerous materials and operate heavy equipment.
Employee Direction
High mesh fencing is an excellent way to control the flow of traffic in your warehouse and enforce inspection policies. Your circumstances may require that employees be inspected before and after the beginning of their shift for safety purposes. Mesh fencing can help guide them through your warehouse facility without allowing them to circumvent these security checkpoints.
The mesh partition panels can also help your employees avoid uneven flooring, trip hazards and more. Setting up this fencing is an excellent way of preventing employees like office workers and other untrained personnel from accessing potentially dangerous areas. You can even color-code your secure fencing to let employees know where they can and cannot go based on company policies.
Buy Wire Mesh Partitions From T.P. Supply Co. Today
T.P. Supply Co. has been providing companies like yours with storage and shelving solutions and installation services since 1979. Our team offers a wide variety of wire partitions to meet the needs of your warehouse.
Want to find out more? Give our team a call at 877-302-2337 or contact us online today.